Vijayanagara Empire (1336 -- 1565)
Vijayangara: A Synthesis of South Indian Culture

The Muslim rulers from North India pushed through southern kingdoms in the fourteenth century of CE. It was looting of gold and their fanatic zeal to spread Islam, that led to annihilation of dynasties and irrational massacres. They had learnt from their earlier experience that plundering of rich temples and defiling them would achieve their two objectives. There was no hesitation to kill those who resisted or refused to convert. It was religion (dharma) and not only Hinduism that needed all protection. Freedom of religious worship, away from persecution and molestation was priority followed by stability. Early rulers of Vijayanagara concentrated on it.
The Vijayanagar kings will always be remembered as the also custodians of ancient traditions of India. They did not deliberately interfere in the democratic system of local self-government. There was renewal of old grants, retention of old territorial divisions, and exemplary tolerance towards all sects; all these signified the Two and-a half century rule of Vijayanagara kings.
© K. L. Kamat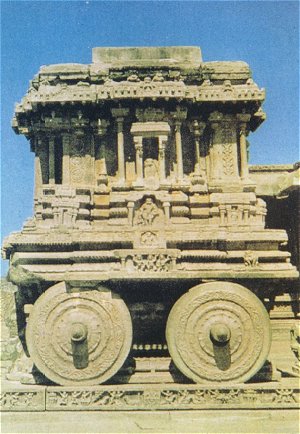 The empire started growing quickly and occupied whole of South India, within 50 years of its founding. The emperors encouraged literature and men of letters in all the languages. Sanskrit, Telugu, Kannada and Tamil under Krishnadevaraya (1509 - 1530 CE) literary output reached its zenith. Well known works on music, dance, drama, grammar, logic, and philosophy belong to this age.
There was international trade and commerce on unprecedented scale. There were three hundred ports, big and small. Calicut was famous for extensive trade with Portugal in the West to China in the East. Articles of trade were of diverse nature: all types of jewellery - gold, diamonds, rubies, pearls - horses, elephants, silks, spices, drugs, iron, silver, cotton cloth of all textures, rice, honey, jaggery, etc. Benevolent treatment by the rulers attracted merchants from different parts of the world.
"There is infinite trade in the city of Vijayanagar and strict justice and truth the observed towards all by the governors of the country" observed the Portuguese traveller Duarte Barbosa in 1452 CE.
Art and architecture received big boost. Hazara Rama temple, Vijaya Vitthala are, according to Longhurst and Fergusson, the most perfect specimen of Hindu temple architecture of the period and extreme limit in florid magnificence'.
Foreign travellers have left glowing description of the city of Vijayanagar and immense prosperity of the vast empire.
Thus for more than two and-a half centuries, Vijayanagara rule acted as a bulwork of Indian culture in the entire South. It played avital role in the protection of Hindu dharma (way of righteous life), care of the population, promotion of literature, art and architecture, International commerce and most importantly in religious toleration and non-intervention of age-old customs. It represents a glorious chapter in Indian History. It was indeed a synthesis of South Indian culture. It checked Islamization of the region, unlike North India of the period.

See Also:

• The Vijayanagar Empire
• Food and Food Habits in Vijayanagar Times
• Depiction of Social Life in Vijayanagar Sculptures
• Sports and Pastimes in Vijayanagar Times