Chitrapur Saraswat Community
Musings on a minuscule minority community of Chitrapur Saraswats
The Saraswats in South India are divided into six groups. Chitrapur Saraswats form one of them. I was born a Chitrapur Saraswat. I married a Goud Saraswat and very soon my husband and myself had to move away from our home-state. My husband, Krishnananda Kamat was a distinguished Kannada writer, with a Ph.D. from New-York state University. I was in All India Radio service which made me, a thana Konkani, develop a pan-Indian outlook, getting exposed to several languages and cultures very different from mine. In addition, members of both my father's family and Kamat's family are among the enlightened ones, who do not stress on caste or cluster barriers. Claustrophobia, from which majority of Indians suffer because of caste restrictions, was only a dictionary word to us.
G.L.Kamat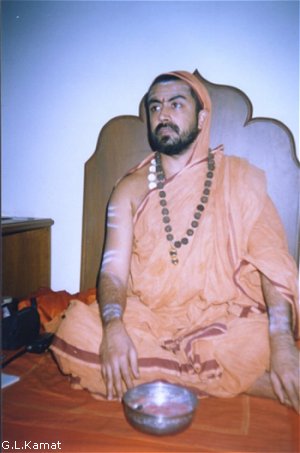 Swamiji of Chitrapur Muth
Sadyojata Shankarshrama Swamiji of Chitrapur
While I am an Indian first and foremost, I am at times proud of my Chitrapur (also known as Bhanap) heritage. The Bhanaps are, in the Indian context, a highly advanced community with 100% literacy; it is also a community in which there is no gender-discrimination, and which has first co-operative efforts to its credit like co-operative housing societies, banks, old people's homes etc. Compared to other groups among Saraswats, Bhanaps are more organised, more united and forward looking. They had caste-census more than a hundred years back; first English school more than hundred and fifty years ago and a community magazine which is ninety-six year old. But the community is fast diminishing with very low birthrate and inter-caste marriages. As is common in patriarchal society, wife/children acquire the community identity of the husband/father.
To have a clearer idea of the present status and forthcoming danger to this minuscule minority community facts are given in nutshell.
Total number - 25,000(twenty five thousand only) among more than one billion Indians.
Birth rate quite low: There were 15,000 members in 1930, 18,000 in 1955, 21,000 in 1971 and only 25,000 in 2005. India has 300% growth, Bhanaps have less than 50% growth rate.
Inter-caste marriage rate is 1 in 5. The community is becoming diluted.
The community is service-oriented. Very few are in business/industry (except few doctors).
Life span-75 years (average in India is 63 years)
Have itinerary traits.
They came to Goa from North about 1500 years ago.
From Goa to Kanara - 300 years ago.
From Kanara region to big cities (Mumbai, Chennai, Pune, Bangalore etc.. about 100 years ago.)
From India to Gulf-countries, UK, USA, Canada, Australia etc.,- the trend started about 40 years ago. It continues.
12% are living abroad, (1,000 families)
They are mostly middle-class community with no poverty class. There are some in upper middle class and few are rich.
Family ties are strong, but nuclear families do not leave much scope for strong binding between extended families.
The Chitrapur Math (300 years old) provides a strong religious bond. The present pontiff (shown in the picture above) holds Masters degree in Physics, guides the community in all spiritual and social matters; is interested in welfare of the young and old alike.
The Goud Saraswat community from which the Bhanaps branched out three hundred years ago is about ten times bigger; many factors like language, food, festivals, and pooja-rituals being common, they mix easily. Nowadays marriages between them are also becoming common.
Bhanaps are not known to be generous nor for building schools nor hospitals, though earlier pioneers like S.V. Kaikini, N. Chandavarkar, S.V. Talmakki have provided splendid examples in hel