The Town of Karkala

Monolithic statues of Gommateshwara (a.k.a. Bahubali) are common in Karnataka. The tallest and most famous is that of Shravanabelgola which was installed probably in 984 CE., and is nearly 58 feet tall. Four hundred fifty years later came the Bahubali image of Karkala which is forty two feet tall and weighs 80 tons. Karkala is a town in Udupi district.

© Vikas Kamat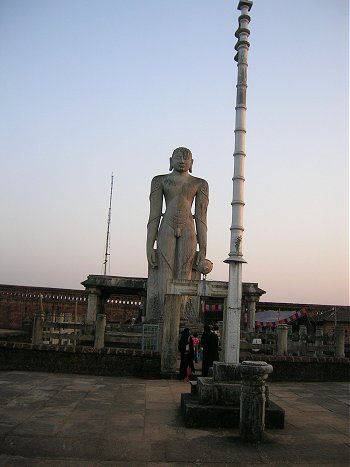 Gomateshwara of Karkala Town
Veera Pandya, son of king Bhairava of Jinadatta dynasty installed the gigantic statue in year CE., 1432 on February 13th. He called himself modern Chavundaraya in memory of the great patron who was responsible for the Shravanabelgola statue.
Four years later in CE., 1436, Veerapandya erected Brahmadeva pillar in Karkala.
Whereas the great Shravanabelgola statue was sculpted out of the huge rock on top of the mountain, the statue at Karkala was carved at some other place and transported to Karkala. It must have been a Herculean task hauling it up the hill!
Karkala is known as Pandyanagari or city of Pandya because, two chiefs of Bhairarasa family who ruled in this region from early 14th century, had the name of Veerapandya. The Bhairarasa hailed from Humcha in Shimoga district. As was the general practice, these rulers equally patronised all religions, though they were them selves devout Jains. They welcomed the Goudsaraswats fleeing from Portugese persecution of Goa and built the large temple of Venkataramana in about 1537 CE.,.
Karkal has two more note worthy Jaina monuments. The Chaturmukha Basadi has four identical looking entrances from the four quarters and hence the (chatur=four; mukha = face or door). It has life size statues of three Teerthankaras, besides small small images of all the 24 Teerthankaras and Padmavati Yakshi. There is a manasthambha pillar.
South Kanara Gazetteer (1973) gives the population of Karkal at 18,593. It derives its name from the black color of the rock called Karikal in Kannada. Perhaps the rock here is ideally suited for monolithical sculptures!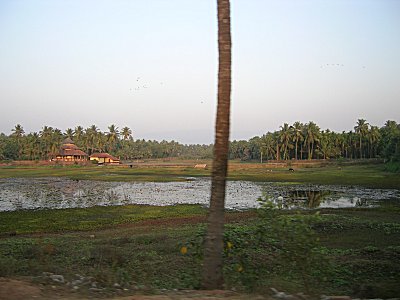 The Elephant Pond, Karkala
The town was clean, full of greenery, nice ponds and wonderful citizens, when we briefly visited the place in February of this year (Feb 9, 2006). With well kept temples, basadis and buzzing market place, it has old world charm and up-and-coming activity. This is where I met collector Nithyanand Pai, who has helped us in identifying many of the ancient coins.
Veerappa Moily, am ex-chief minister of Karnataka represents this constituency. Belonging to a backward community, he possesses extraordinary literary merit and has several books to his credit. His latest work is Ramayana as he has visualised and has been acclaimed for original reflections interpretations.

See Also:
• The Town of Udupi
• Kamats in India 2006