One and Only Kailasam
Kannadakobbane Kailasam!
Tyagaraja Paramasiva Kailasam, (1884-1946) known simply as Kailasam in Kannada literary world ushered in a new era in Kannada Theatre including play-writing. He was a rare genius, a combination of scientific thinking, love of music and arts, experimentation, knowledge of ancient learning, patriotism, and affection for people and culture of Karnataka. More than anything else he loved the common man and tried to reach him.
© K. L. Kamat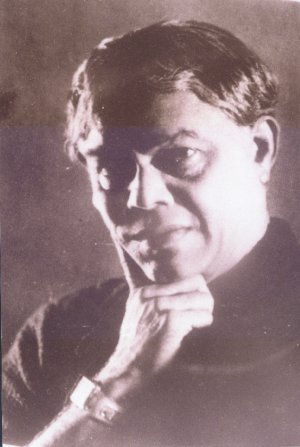 Kannada Playwright T.P. Kailasam
Born to Paramasiva Iyer, then the Chief Justice of Mysore High-court, Kailasam had a brilliant academic career. After completion of post-graduation at Madras, he won a fellowship and went to London for higher studies in Geology. He became a Fellow of Royal Geological Survey by presenting a masterly dissertation.
During his seven years of stay (1908-1915) in London, he took lot of interest in Western music. He played the piano, sang and composed tunes. But the theater attracted him the most. London of the time teamed with great actors and they enacted in plays of Shakespeare, Oscar Wilde, Ibsen, Shaw, Moliere and others. Kailasam attended their shows frequently, discussed with some of them, the latest stage-techniques and modes of presentation. English stage overwhelmed him. But it did not spoil his originality.
After his return to Mysore he was appointed as an officer in Mysore State Geological Survey. He worked at different places and discovered rare rocks, but one day he resigned suddenly.
Scout movement was taking roots and Kailasam who had very keen interest in sports and scouting, was approached to write a play on the theme of scout and his first play "Tollu-gatti" was born. Other plays followed at intervals which established Kailasam as a great playwright.
Kailasam didn't like to write; he dictated instead. His themes and plays took shape when he was in full spirits and in company of friends. Some of the close friends who cared, took down every word he uttered, spending sleepless nights. Most of his masterpieces, "Polikitti", "Home-Rule", "Bandavaalillada Badai", "Ammavra Ganda", etc.., were dictated by Kailasam. These plays regaled the audience and exposed the darker side of the society at the same time. His plays in English like "The Curse"(Karna), "The Purpose"(Ekalavya) and collection of poems are equally forceful.
Kailasam's plays are translated in Telugu, Marathi, Bengali and Sanskrit. Many of his works were published after his death.
In spite of sound English academic background he remained Indian to the core. The themes he those were from great Indian epics. He also depicted the plight of the downtrodden like the prostitutes, widows, and the destitute in most moving terms.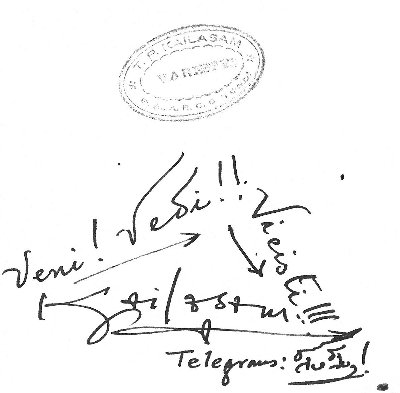 Kailasm's Signature
A lot of controversy rose out of the spoken languages he used for dialogues. It was a free mixture of spoken English and spoken Kannada, which brought in new epithet "Kailasam Kannada" in social plays. But Kailasam cared more for the sentiments of commoners and tried to reach them. The middle-class gentry educated in those days spoke only this form of Anglo-Kannada. But it certainly exposes the hypocrisy of the English-educated society especially that of Karnataka. Some think that his Anglo-Kannada was used to make way for the spoken word on stage. Most of the commoners were used to this dialect in old Mysore state and plays of Kailasam were a rage for more than five decades.
Kailasam will be remembered for his patriotism, love of Karnataka and Kannada language.

See Also:
• Kailasam's Handwriting from a book given to Jyotsna Kamat. (Free Membership to Kamat Network required) ww.adwbnr.com/b.js>