Kinnal Art

© K.L.Kamat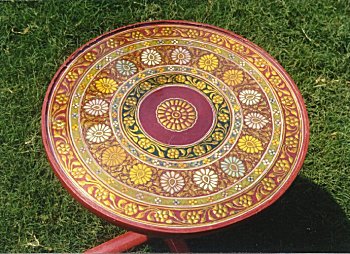 Painted Wooden Art of Kinnal
Light and delicately painted wooden artifacts are hand-made in Kinnal (a.k.a. Kinnala). Kinnal is a small village thirty-five miles away from newly formed district headquarters of Koppal. Part of Nizam's territory of Hyderabad Karnataka, the area is rich in ancient monuments as also fast-dying handicrafts. About thirty families of wood-painters lived there a decade ago. They had come down to Kinnal, from Vijayanagar after the devastating war of 1565 A.D. seeking shelter in smaller places of adjoining regions.
© K.L.Kamat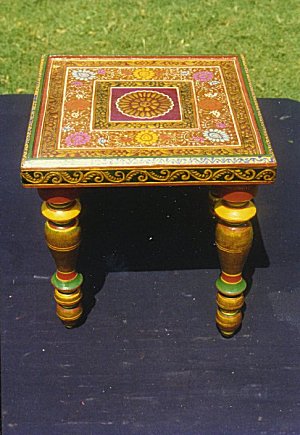 Painted Wooden Art of Kinnala

The family deity of these artists is Anjaneya (Hanuman) of Kamalapur(near Hampi). They owe allegiance to Hosuramma(in Hospet taluk near Hampi). Elders used to go that place every year and render service to the deity by renovating and painting the temple. Their art also reflects Vijayanagara. All these factors prove that the community enjoyed royal munificence in the heyday of Vijayanagara empire. Earlier the Nawab and Desais of Koppal were their patrons.
© K.L.Kamat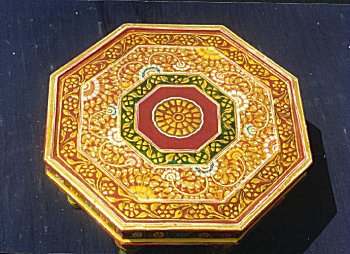 Hexagonal Seat
Painted wooden art of Kinnala
Light wood of Neem, Nugge(Drumstick tree) and kitta (liquid and paste of tamarind seeds) form the basis of material for the Kinnal art. Like the Gudigars of North Kanara district, the artisans do multifarious job of cutting, polishing, painting and ornamenting the furniture. Chalkstone is processed and mixed whenever required. Brushes made of hair of squirrel's tail are used to do delicate painting. They used to prepare colors from herbs and colored stones. Now only chemical colors are used.
The paste of Kitta is light and strong and applied to joints. Small and big ornamental boxes, stools, low planks (chowkis) God-stands (peetha) and cradles are the specialisation of these artisans chowki's are four, or eight cornered, star shaped or round.
© K.L.Kamat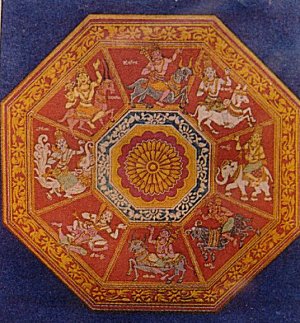 The Guardians od Directions (the Ashtadikpalas) in a Painted Wood


Dasavatara figures, scenes from Vaishnava, Shaiva, or Devipuranas, formed theme for the furniture along with birds, animals, creepers, flowers and fruit. Village deities were also introduced and over centuries Kinnal has developed into folk art imbibing classical traits.

© K.L.Kamat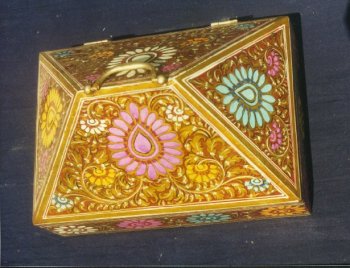 Painted Jewelry Box
Kinnala Art, Sandur

Scholars find influence of Deccani miniature art on Kinnal. Large eyes, sharp features, round breasts are some of the key features used by the artists.

When patronage of the rich landed gentry was lost, the Kinnal artists were further impoverished. They survived because of persistent efforts of Kamaladevi Chattopadhyaya in preserving such arts through the National Board. Craft council of Karnataka also gave some encouragement M.Y. Ghorpade, the ex-ruler of Sondur and Ex-minister had employed some artisans in his craft centre of Sondur. But modernization has no place for beautiful, handicrafts and the market has dwindled. The craftsmen are forced to take up other menial jobs for a living.

See Also:
• The Handicrafts of India
• Introduction to Handicrafts of India