Remembering B.G.L. Swamy
B.G.L Swamy (1918-80)
© K.L.Kamat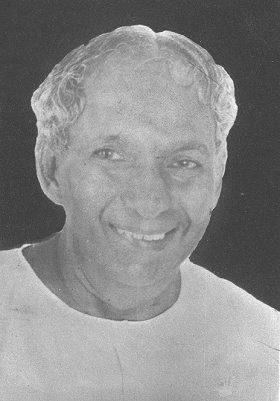 Kannada writer Prof. B.G.L. Swamy

Son of D.V.G., a doyen among Kannada writers, and Bhagirathamma, Bengaluru Gundappa Lakshminarayanaswamy or Dr. B.G.L. Swamy towed his own line in writing. He topped the list among science writers in Kannada besides expressing his multitalents in drawing, painting, music, research in languages and history. He figures among top-botanists of the world and has about 300 articles in English to his credit. His mother-tongue was Tamil and knew Telugu and Sanskrit very well. But he wrote in Kannada language, the language nearest to his heart and enriched it in no small measure.
B.G.L. Swamy had his education in Bangalore and Mysore. He completed his B.Sc. degree in botany and went to Harward for higher studies. He obtained a Doctorate of Scicence from Mysore University. He joined the Madras Presidency College as a Professor of Botany in 1953. He finally retired as the Principal of that college in 1978.
© K. L. Kamat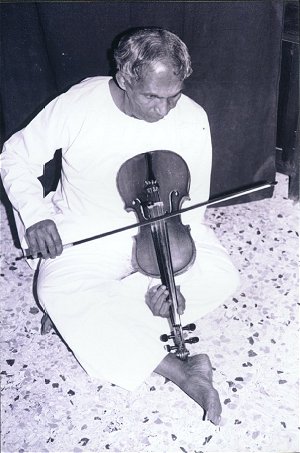 Dr. Swamy was a prolific writer. Humor in various forms was his forte. He crafted science or research article in a way that was entertaining and educative at the same time. His works could be divided into four categories, viz those pertaining to botany, other scientific works, historical, travel-stories and satires which reflect social life of our times.
Encouraged by Prof. A.R. Krishnasastry, he started writing as early as 1939-1940 in "Prabuddha Karnataka" which Prof. Shastry was editing. It was a highly claimed quarterly of Mysore University. His hand-book to newly weds and biography of the unborn were unique. His American travelogue. "Americadalli Nanu" (1963) became very popular due to depiction of American Society through Indian eyes. He could give humorous tilt to any situation and though exaggerated many a time, it could be informative and educative.
This travelogue is full of scintillating humour. It had cartoons drawn by the author himself.
Comparison with Kamat
In fact, I had described situations from "Americadalli Nanu" book to my husband, prodding him to write a similar book, to include his own American experiences. Kamat's "Nanoo Americage Hogidde" became an instant hit and saw several editions. Dr. Swamy, who'd never met Kamat earlier, was highly appreciative of the book and had requested the publisher, G.B. Joshi to convey his admiration to the author.
Dr. Swamy and my late husband are often compared for popularizing science-writing in Kannada. Both did the pictures and line-drawings for their books.
Dr. Swamy was a good cartoonist as well.
© K.L.Kamat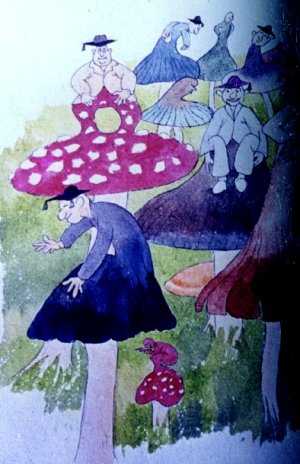 The Mushrooming Culture
Cartoon Painting by Prof. B.G.L. Swamy
Swamy has five books in his specialization of which "Hasiru-Honnu" (The Green-gold) is the most popular. It won him the Central Sahitya Academy Award. I believe B.G.L. Swamy and D.V.Gundappa are the only son-father pair to get this prestigious honor.
His experiences in Tamilnadu as an academician and administrator are featured in three books 1) "Kaleju-Ranga" 2) "Kaleju-Taranga", and 3) "Tamilu Talegala Naduve". All deal with oblique or caricatured scenes in the educational field as well as society in the state of Tamilnadu. His "Namma Hotteyalli Dakshina America" (South America in our stomach) tells the story of travel of crops like corn, potato, groundnut and chillies which form indispensable part of Indian cuisine but are of South American origin.
Only Photographs of B.G.L. Swamy
© K.L.Kamat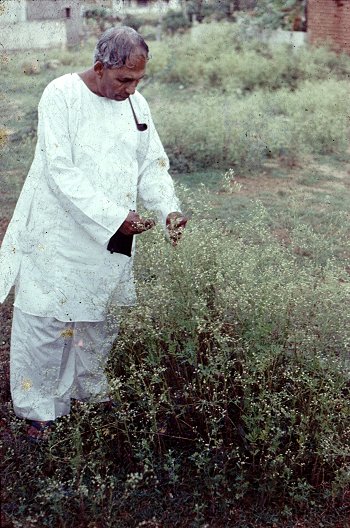 Botanist B.G.L. Swamy
Prof. Swamy studying the Parthenium weed
Dr. Swamy was shy of publicity and wanted quiet time with his pipe, plants, pen and palette. Once his relative and Kamat's writer-friend, S. Diwakar took Kamat to Swamy's residence in Bangalore, where he had settled temporarily. Kamat extensively photographed B.G.L. Swamy on that day in 1979, in many informal moments. Dr. Swamy<