Manastambha of Hiriyangadi (1522 C.E)

The monolithic manastambha (pillar of honor) erected before Neminatha basadi near Karkal, is the tallest (52 1/2 ft) stone-pillar in India. Colossal stone pillars erected infront of basadis are known as manastambhas. A manastambha is equivalent to a dhvajastambha (flag-post) erected likewise in front of Hindu temples.

Abhinava Pandya of Bhairarasa family who ruled the region of Karkala, erected it in 1522 C.E. The large four-phased platform provides the base. The pillar itself has three-phased tiers of reducing dimension. The Second part forms shaft of the pillar, the third and highest portion of the manastambha is called mukuta or crown. The shaft portion is in square shape at the lower level and octagonal at higher levels. The mukuta at the top has a mantapa where the image of the Tirthankara or minor deity who attends on him, Brahma yaksha, is installed in which case it is called Brahmadeva pillar.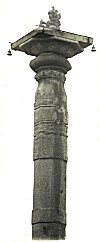 The manastambha, has elegant carvings and majestic look. Geometrical designs, relief figures and hamsas (Swans)- swan symbol is equally sacred to Buddhists, Jains and Hindus - adorn the pillar. Geometrical designs are a special characteristic of pillars of Vijayanagara period. This might be due to Islamic influence on Indian architecture of the times as per late Dr. P. Gururaj Bhat, an authority on history and architecture of Tulunad.
Mandarke Devanna Pai (90), a long time resident of Karkal, and a freedom fighter remembers an interesting incident. About 75 years ago on the topmost part of the pillar, an Aswath (peepal) tree started growing threatening the monument. The British government sanctioned Rs. 150.00 for cutting down the tree. In the beginning nobody came forward. Later, only one adventurer came forth and succeeded in cutting the tree. As a youngster, Mr. Pai was witness to this rare feat along with hundreds of onlookers.
The Neminatha Basadi, which boasts of this unique pillar also has the distinction of carvings of Hindu gods like Anjaneya, Ganesha, Krishna and others on its outer walls.
Bhairarasa rulers patronised alike Jain and Hindu deities and provided liberal grants.