Cheers to Chai!

The 18th century British poet William Cowper, seems to have been very fond of tea and greets it as "a cup that cheers but not inebriates'. Things have not changed much in India after three centuries.

Tea, "chha" or "Chai" is a legacy of British to India, though its homeland is China, the neighbouring country where it is a national drink for the last 4000 years. Tea is now a national beverage of India as well. But for the southern state of Tamilnadu and pockets in Karnataka, where coffee dominates, tea is by far the favorite drink in all the states, and Indians have inherited the custom of drinking tea with sugar and milk from the British.

© K. L. Kamat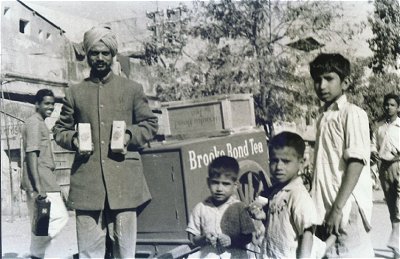 "Take Home Some Brooke Bond Tea Today!"
A Roadside Advertiser for Tea, circa 1968
There are several ways of brewing tea. There is dip-tea, green tea, black-tea, iced tea, thick, sweet and milky tea, and even salt tea. The latter is a a favourite in the northern regions of Himalayas where even a whip of yak butter is added to tea brew on special occasions. Tea at Punjabi Dhabas have special flavor with spices like ginger, cardamom, cloves etc., in the thick brew, when "Special Tea" is ordered. Tea leaves or tea-powder or a mixture of both, forms basis of Indian Tea. India is one of the largest producer and consumer of tea in the world.
Tea-tumblers, glasses or cups vary in size from state to state. Sophisticated class prefers Tea-tray with decoction, milk and sugar kept separately and mixing as per individual preference. North Indians prefer "gilas" (glass tumblers). Size of cups gets reduced in Gujarat, Maharashtra and in Karnataka. "Single Cha" is slightly more than a single drought! But it is common man's humble celebration, in between (interval) or after a hard day's work. In steel tumbler or Kulhad (throwaway earthen cup) tea has different taste as you travel through the huge peninsula. Road-side eateries and chai stands, are a common sight on busy Indian roads, where all will be having a sip without differentiation of caste and creed, of the steaming and refreshing drink.
© Corel Professional Photo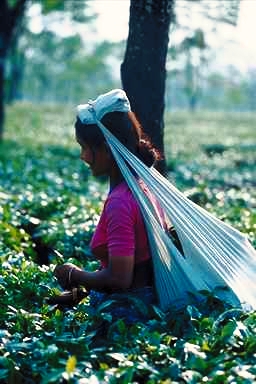 Girl Picking Tea Leaves
State of Assam, in Northeast India
It is believed that drinking tea reduces the risk of heart disease. It can prolong even longevity after a heart attack. Tea-drinkers have an edge in this respect over coffee-consumers. These are the findings of Harvard Medical School. (via Journal of American Heart Association of May 07, 2002).
The day does not start without a cup of steaming tea for many "Tea-totalers" like me. Many get headache if they do not get tea after their siesta.
Who can refuse a cup of strong flavoured, refreshing tea, after a tire-some journey? Ask the driver!

See Also:
• No Tea at Altino!