Kundya Kurkul: Konkani Musical
Dramatisation of a Konkani folk-tale, Kundya Kurkul
© G.L.Kamat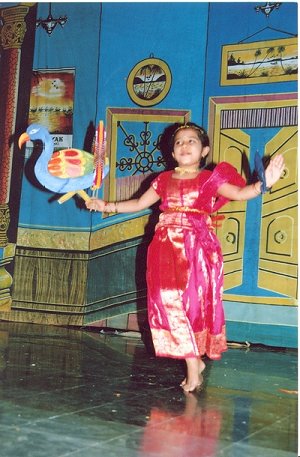 Kurkul Orders the Peacock to Fly.
Dramatization of a Konkani folk-table, Kundya kurkul
One of the best ways of preserving and propagating fast diminishing folklore is to set such songs and tales is, to set them to music, dramatize and stage them before an audience that understands the language, as I recently discovered.
A suitable opportunity came to me for such a program. Sri Ramamandir temple (also called matha of Ten elders or Dhajana Matha in Konkani) in Honavar has has a nicely built big community hall. This temple houses some beautiful Kavi paintings (murals) as well. Shri Vidyadhirajatirth Swamiji of Gokarn Partakali Jeevottam Matha, Pontiff of Goud Saraswat Brahmin community to the North of Gangolli river was in Honavar observing chaturmas. Since Buddha's days. It is a practice with spiritual Gurus to spend the four months of rainy season (chaturmas), curtailing all itinerary activities, stay at one place, engage in deep meditation as well as impart, religious education through discourses, speak to devotees and solve socio-religious problems of the place. The town hosts hundreds of devotees who come seeking advice and blessing. In addition to free food (prasad) for stomach and thought. The community arranges cultural programs to encourage local talent.
Staging of children's musical "Kundya Kurkul" was my second attempt, after conducting a workshop based on traditional songs of Suragya Sar, to popularise Konkani folklore. Kundya Kurkul is a original Indian version of Cinderella story which is very popular in the west, summarized here:
In this tale of poor Brahmin priest helpless father of seven daughters, takes them to the forest in the name of an outing, as deserting them, returns home.
However the youngest girl, also the most beautiful, intelligent and brave them, consoles and leads them to a lonely house in the forest. As luck would have it, the house was full of goodies, food, clothing and ornaments with six rooms. The six girls occupy the rooms, cook food enjoy, leaving Kurkul, the youngest to fend herself. Poor Kurkul occupies a nook near the kitchen full of barn and husk (kundo in Konkani) and spends the night. She gets the nickname of Kundya Kurkul (Barn-Baby).
Car festival (teru or jatra) was taking place in nearby town. The sisters decided to attend, leaving Kurkul alone in the house. When they are gone dressed in finery, tearful Kurkul tries to sieve the husk and collect broken grains to prepare her daily porridge. Suddenly she finds a box below the mound of barn. When pulled out it displays beautiful clothes ornaments, a pair of embroidered shoes and a golden, ruby studded peacock. Kurkul was extremely happy. She knew from her parents that the peacock took orders of the rider a flew to the wanted places. She got dressed quickly, wore the shoes and ordered the peacock to reach the place of jatra.
She reaches the spot where her sisters were having gala time,eating, shopping and attending road-side shows. But none could recognise this beautifully dressed Kurkul. Everybody who had gathered were looking at this extraoridnary visitor, including the prince, who came to the fair as a commoner. Before it was too late, Kurkul slipped cleverly, rode the peacock and flew back to the residence in the forest. But inadvertently she dropped one of the shoes, which the king's guard picks up and hands over to the prince. Rest of the tale runs parallel to that of Cinderella.
Most of the folk-tales have common theme and the axiom of living happily thereafter. Humanity at large loves glittery romantic tales and rags-to-riches stories.
The performance I composed of Kundya Kurkul received good accolades. Even Swamiji attended, the show. Tulsidas Kamat, a leading cloth merchant of Honavar and brother of K. L. Kamat gave away prizes.
Pictures from the Performance
© G.L.Kamat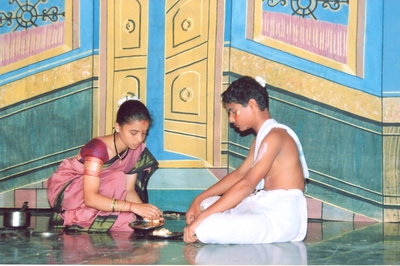 Kurkul's Parents
The selfish father insists on good food for himself and porridge for kids. Dramatization of a Konkani folk-table, Kundya Kurkul
© G.L.Kamat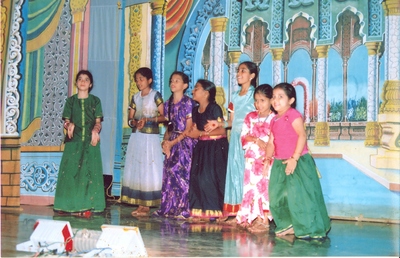 Kurkul (far right) with her six sisters for an outing

© G.L.Kamat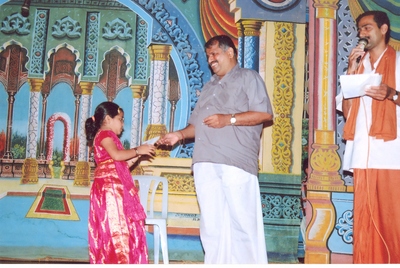 Tulasidas L. Kamat Distributing Prizes
Dramatization of a Konkani folk-table, Kundya Kurkul