Vindhyan Discovery of Wakankar - II
Prehistoric Art
Having discovered a good number of rock shelters and caved dwellings in the Vindhya mountain ranges of Madhya Pradesh, Dr. Wakankar devoted most of his life to interpret the rock-paintings in different stages of human evolution and decay. Super-imposition of ritualistic paintings made his job extremely difficult.
More cultural activity was noticed in late Mesolithic ages. Skulls of animals like boar, deer, rhino and monkeys were modeled for head-dress, and feathers of different birds were used to decorate them. Bracelets and necklaces made of beads and bones were popular. The art of basketry developed and rope-weaving came into being.
The art of engraving bones was common. Paintings in green color are believed to be of the earliest period. Availability of stones with green color nearby helped to obtain the pigment. Later figures appear in red.
The figures show unusual bend of body and limbs leading one to believe that dance sequences are painted.
© K.L.Kamat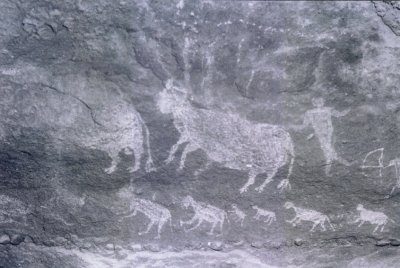 Rock Shelter Painting from Pachmari
Prehistoric petroglyph, Central India
The animal figures were deer and buffaloes. Purple and dark red colors slowly appeared. These seem to have been deified. Pattern of honeycomb was used to depict them. Geometrical, spiral, and zigzag designs were used. The animals were drawn on a very big scale. Boar, panther, bull and elephant pictures appeared. Pregnant Neelgai, or cow are shown with elephant cub in their wombs. Perhaps it was their wish for a strong progeny (the elephant is known for herculean strength.) Incidents or anecdotes connected with their tribal life are depicted symbolically. Dr. Wakankar opines that the struggle for existence through umpteen hurdles is well-reflected in the line-drawings and paintings of these earliest representations of mankind. "Archaeologists have been excavating their tools but few had the chance to look at their achievements recorded by themselves, on these immortal walls of the stony rock shelters in Vindhyan sand stone hills in the heart of India".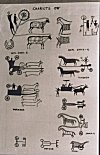 Carts drawn by Neelgai, deer, bulls, and horses are often depicted in different rock-shelters. Malwa was occupied by agricultural communities, coming from north. Shelter-dwellers developed trading transactions and tried depiction of domesticated animals in their art. Pottery and copper were also introduced at this stage. Geometrical patterns and even modified animal-drawings appeared. The dynamic and natural traits made way for conventional and schematic forms. The changeover helps to date the rock-paintings in Mesolithic, pre-chalcolithic and post-chalcolithic periods.
More than a hundred chalcolithic sites were discovered in Malwa area. The pottery has sturdy black and red designs on them. Spouted bowls, polished dishes and cups on stand were found. There was another variety with thick red slip and coarse fabric and yet another with crimson tint. Dr. Wakankar has given Vedic names to the varieties he discovered like Dasharna and Anupa.

See Also:
• Meeting Prof. Wakankar
• Cave Paintings of India
• Prehistoric Social Life in India