The Midwife who built a Hospital
The Story of Kusum Sorab (1937-1998)
Dr. Kusum Sorab, who died under mysterious circumstances, (a hit-and-run case which remains un-investigated till date), was a multi-talented personality. A Gandhiyan by parentage and early training, she was a trained physician and surgeon in allopathy, but a strong believer in naturopathy. She was an environmentalist, an animal lover, an artist, a lover of literature, a mountaineer, and above all, a humanist to the core.
© K.L.Kamat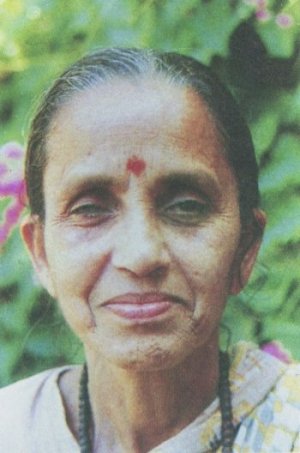 Multi-faceted Leader Kusuma Sorab
The village of Kasarkod, Honavar
She started her medical career as a midwife and with immense efforts built a hospital complex which had a clinic, a nursing home, a plantation for growing medical herbs, a training institute for mid-wifery, a canteen and a small dairy. Besides training in Yoga, treatments in Ayurvedic method were/are available. With all these, Dr. Kusum was always calling herself a midwife and proudly displayed letters of her certificate R.M.N.(Registered Midwife and Nurse) before indicating her M.B.B.S. and M.S. degrees. "The initial training as midwife has taught me patience, affection, alertness and strength" --- she used to say. Those were her forte.
Dr/ Kusum Sorab was born to Bhavanishankar and Mitrabai Sorab of Keravalli village near Honavar, in 1937. Her father was a Railway employee and Kusum was a child among two boys and three girls. Her parents were associated with Dr. N.S. Hardikar, in his many Rashtriya Seva Dal activities, during the freedom movement. Kusum inculcated the spirit of fearlessness, self-reliance and social service, early in life. She wanted to become a doctor and serve India's poor.
But financial assistance was not forthcoming and she joined the Nursing course at Bijapur. She had a chance to attend on Veer Savarkar as a student-trainee when Savarkar had come to Bijapur for rest and recuperating.
After completion of the course she joined as a nurse in Bombay hospital. She had not given up hopes of becoming a doctor and continued her efforts. Medical colleges were fewer then and admission rules were stricter. Finally she met Sushila Nayar, who was the Health minister in Jawarlal Nehru's cabinet. Herself a Gandhian and doctor, Nayar was very much impressed by this young aspirant's ambition and original ideas regarding medical care for the rural folk. She instructed the dean of the concerned branch of Bombay University to examine Kusum's application and help similar aspirants.
Kusum had succeeded! She was also instrumental in getting modified, the rules for admission in medical college for trained employees in medical service. The five year course of Bachelor of Medicine and Bachelor of surgery (M.B.B.S) after school graduation was very rigorous and modeled on lines existing in Great Britain.
Kusum continued with her night duty as a nurse and attended medical college during the day time. This left her with hardly 2-3 hour's sleep and for other chores. Her brother was staying with her as well. Daily needs had to be catered to along with preparation of food.
After qualifying, she was appointed as an Assistant Surgeon in Ahmednagar hospital. But she was not happy. Her life's ambition was to serve in rural area. She resigned her job. She purchased 11 acre land beside Sharvati river in the village of Kasarkod near Honavar, with her savings and collected funds. With her contacts in Bombay, she obtained necessary X-Ray and other equipment, furniture, beds and other requirements from charitable individuals. She developed some eye-infection during these days of tiresome travel and lost one eye, due to negligence. Ultimately she succeeded in giving shape to a rural hospital of her dreams.
Vivekananda Arogyadhama (Health resort) was born. She had by then mastered methods of nature–cure and holistic way of cure.
With native equipment in thatched huts and earthen flooring, Kusum started nature-cure medicines & examination were free. Nominal Rs. 15 (equivalent of of US 25 cents) were charged per child-delivery. Those who could not afford that much, had free service. She could diagnose complicated cases as well but regretted that treatment was not locally possible. Available Ayurvedic treatment though effective was quite slow. Some could not wait and some patients could not afford that much "leisure" in her free hospital. These were poor laborers in supari plantations. But with student–nurses and a small dedicated band of workers who rose up to any occasion, her hospital established a good name. Patients of lower strata had a hospital nearby and a physician who understood their difficulties.
Everything would have been fine if only Kusumakka ("Akka" or elder sister was the affectionate title people joined to her name, by then), restricted her activities in being a doctor and running a hospital. But she was destined to achieve, more, serve in several capacities and disappear suddenly.
In a future entry: The Saga of Snehakunja