Purnachandra Tejasvi and Environment

K.P. Purnachandra Tejasvi, a distinguished Kannada writer died of cardiac arrest on April 5, 2007. Son of Kuvempu, Tejesvi toed his own line to eminence, untouched by his great litterateur father's name or fame. Though I had read his stories, novel "Caravalo" and biography of his father "Annana Nenapu", I was yet to go through his scores of other books and translations on adventures as also animal and plant life.

© D.G. Mallikarjuna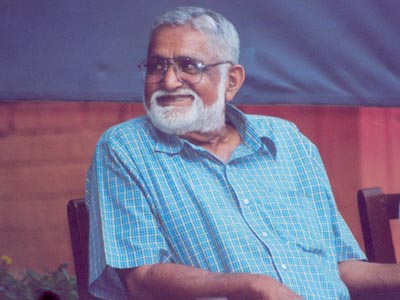 Writer Purnachandra Tejasvi

Tejesvi led a totally unconventional life. His love of nature made him reject all cushy jobs. He purchased land in a remote village in Chickmaglur district, took to agriculture and coffee plantation, spent most of his time studying flora and fauna of the region, and clicking photographs all the time.
A great environmentalist, he has introduced forest life and wonders of wilderness in many of his Kannada books.
His keen observation and inimitable style with scintillating humor have made him an extremely popular writer. His books have seen several editions. Each one has revealed marvels of nature anew, every time. When Promod Kamat my nephew brought me "Pparisrada Kathe" to read, it was indeed a great treat, during my recent stay in Honavar.
Parisarda Kathe
Parisarada Kathe (The Story of My Environment), is an illustrated collection of real life stories related to ecology and environment. Between 1991 to 1999 it has seen eight editions. It must have, undergone few more editions after that.
Tejasvi has dedicated this book to his illustrious father who, he writes, first created in him curiosity about nature and environment. It is amazing to learn that Kuvempu was not only a great poet depicting nature, but was soundly aware of behavioral pattern of various rodents, birds and insects about which he informed his two his young sons whenever they accompanied him on his long walks. Later Tejasvi developed the technique of introducing several wild species, porcupines, boars and reptiles, monkeys lizards, through his inimitable style, humorous and at the same time educative.
He has brought out many superstitions of Hindus, and Muslims connected with these species, condemning them and scientifically interpreting them. He had great concern for the mass destruction of forest-life of Malenadu, (Western Ghat region) where he was born, lived and died.
Fond of hunting. he spent earlier part of his stay in Mudigere village with Kivi his favorife dog, and gun, roaming in deep forests. He wrote some of these experiences, in the form of stories, laced with satire and humor. These stories form rarest literary pieces in Kannada language because, that environment exists no more. Tejasvi is at times compared to Shivaram Karanth and B.G.L.Swamy, who have successfully tried to depict, nature and ecology through their writings.
Kannada readers should be ever grateful to these three stalwarts for preserving fond and intimate memories of their rich & irreplaceable environment which has altogether disappeared, with mindless "developmental" approach of the Government, ruthlessness of the contractors and abysmal indifference of the public.

See Also:
• Tejasvi Picture Album
• Review of Annana Nenapu