Hampi : The Ancient Vanarland ?

Dr. A. Sundara (1932-) distinguished archaeologist, epigraphist and historian has identified the present Hampi-Anegondi area as Kishkindha or the land of Vanara tribe of Ramayana. Hampi was once the magnificent capital city of the mighty Vijayanagar empire (1336-1565 CE) It is full of ruins (some of them restored) stretched over miles and richly deserves the title of "World's biggest open air Museum" and recognition of World Heritage.

The Kannada word Hampe or Hampi has derived from the Sanskrit word Pampa. (or vice versa!) Pampa is a tributary of the Tungabhadra river. In ancient times the river flew with abundant water and the Virupaksha temple and holy spot on which it was built came to be known as Pampakshetra or Pampathitha.

Dr. Sundara has traced earliest human activities in the region round about Hampi, from savagery to the stage of urbanization. He has identified Anjanahalli near Hirebenekal, where human figures with long tails are depicted in the more than 10,000 year old rock paintings, as one of the Vanara establishments. Besides Anjanahalli (Anjana + halli or village) named after mother of mighty Maruti or Hanuman, Kishkindha (Vanara capital) cave of Sugriva, (Sugriva guhe) Sitheya Seragu (Sita's apparel) and other places mentioned in Ramayana could be easily identified, tracing the hoary past of Hampi region. Besides, these Neolithic and Iron age Megalithic remains, pre-historic sites were also excavated. Inscriptions of first and second centuries C.E in Brahmi script as also parts of stone panel depicting Buddhist Jataka tales, were discovered in the vast ruins of Hampi.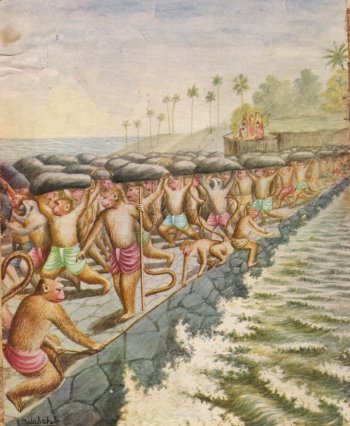 Is it possible that the monkeys described in Ramayana epic, are not monkeys, but a native Indian tribe?
According to Sundara, Kishkindhapura or capital of Vanaras lay on the main trade-route connecting Sannati (or Suvarnagiri in Gulburga district) Ashokan edicts are discovered in Maski (Raichur) Brahmagiri and Jattingarameshwara (Chitradurga) etc. These edicts were the proclamations of the emperor, issued by officer stationed in near by important cities of ancient Royal High Ways. (Rajamarga).(The longest royal route from Ashokan capital of Pataliputra to Banavasi and further south is yet to be traced and identified)
Vanar Land
Vanaras were a strongly built tribe with extraordinary skills as architects, brass & steel craftsmen, builders etc. Hanuman the hero of Ramayana, was a highly learned person, having mastered all the Vedas and shastras. Anjana, Tara and Ruma were very beautiful ladies. They were not monkeys. Perhaps, these Vanaras had habitats as mentioned in Ramayana, in Himalayas and Mahendra hills on the Western coast. They could have been monkey-worshippers. Their symbol included the ape and they are termed, as Kapis!
The word "Kapi" for monkey also means an elephant in Sanskrit. "Kapiloha" means brass. The Vanaras were well known in the production of brass metal. The fact that some prehistoric remains of metal-smithery were discovered in the region, leads one to believe that Hampi-the Vanaraland was a stronghold of Vanara master-craftsmen who excelled in preparing standard arrows along with other metal craft. Incidentally the area round about is, still rich in iron and manganese ore. Many known and unknown battles were fought for the possession of this region for tools of battle-craft. In following centuries, craftsmen of 'Kapiloha' might have come to be recognized as "Kapis" or monkeys, who played a crucial role in Rama–Rawana battle of Ramayana.

See Also:
• Tales and Pictures from the Ramayana
• The Ruins of Hampi
• Indian Archaeology