The Varkari Tradition of Maharashtra
Varkari Faith -- A Tradition of Spiritual Democracy
The Bhakti movement in India has bloomed in different regional forms, though the motto, that of realization or 'the feel of God', being the same. The Alvars of Tamilanadu and the Haridasas of Karntataka kept the movement alive for centuries. Then came Maharashtra's turn, which went further, involving all castes and communities, in Varkari tradition. This practice is as vibrant today as it used to be three centuries ago.
Varkari is a school of Bhakti based on Bhagavata Dharma, the main deity worshipped being Vithoba or Vitthal. A famous abhang of Jnaneshwar needs to be quoted in this context. "Kanada Vitthalu Karnataku / yene maza lavayila vedhu" meaning "Kannada Lord Vitthala of Karnataka is drawing me towards him". Literally millions of people are drawn by the idol of Vitthala whose abode is in Pandharpur (in Southern Maharashtra) since centuries. The custom of Varkari has grown around Pandharpur.
The term Varkari is made up to two words -- "Vari" means moving or going on pilgrimage, and "Kari" means one who undertakes it. The regular pilgrim to Pandharpur is known as Varkari. A Varkari is a strict vegetarian and wears a mala or rosary of Tulasi beads, round his neck. Tulasi the sacred plant is associated with Vishnu whose avatar is Vitthal according to folk belief. Though a devotee of Vitthal, a Varkari is no recluse. He will have his family and vocation. But he will follow all the rules of a pious life, visit Pandharpur every year, preferably in the month of Ashadh (rainy season) with his family and friends. Varkaris usually move in groups, irrespective of caste and creed, performing bhajans and singing songs of saints, associated with Vitthal and Pandhari (short form of Pandharpur). "Pundalika Varada Panduranga Hari Vitthal!" is the ecstatic exclamation in between songs.
© K.L.Kamat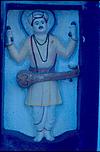 Sant Tukaram, singing the prays of Vithoba

Mythological sources state that saint Pundalik was the progenitor of Varkari tradition. Young Pundalik was a great devotee of Vitthal. Touched by his selfless and innocent devotion, Lord Vitthal, decided to give darshan (appearance), himself to Pundalika and visited him. But Pundalik who was busy serving his old parents, was not amazed. He threw a brick lying nearby and requested the Lord to stand on it and wait till he was free! A very popular abhang states that Pundalik, totally absorbed in serving his parents, forgot about the visiting Lord and he had to stand on the brick for twenty-eight seasons! ("Yuge zali atthavis, ajuni na mhanshi, bais!" -- Saint Tukaram's abhang says "28 tiresome yugas have I have been standing and you have not asked me to sit yet!")
The supreme shrine of Vitthala is shown as standing on the brick as waiting with his both hands clasping the waist.
This idol was originally at Pandharpur (Kannada name Pandarage) and taken to Vijayanagar for safety reasons. However Bhanudas, the great grand father of saint Eknath (1533-1599 A.D.) brought it back to Pandharpur, according to tradition.
The temple itself was built in the 12th century. Panduranga, another name of Vitthala, has evolved from place-name of Pandharpur.
Very soon Pandharpur became the center of Bhakti movement in Maharashtra, with several saint-poets who belonged to different castes, hailing Vitthala, Changadeva was a moving yogi, Visoba was a Shaiva, Gora Kumbar was a potter. Savata was a gardener, Narahari, a goldsmith, Sena, a barber, Joga an oilman, Chokhamela a Harijan (scavenger) Jana, a maid servant, and Kanhopatra, a dancing girl.
Democracy in spiritual terms has prevailed for long in Pandharpur. No doubt Vitthal is the most beloved God of Maharashtrian devotees who call him Mai-Bap (mother & father) and, Pandhari-the mothers home (maher). $sep