Samarth Ramdas
Swamy Samarth Ramdas(1608-1681)
Swamy Ramdas occupies similar place in Maratha history as Swamy Vidyaranya does in Vijayanagar history. Both had reached zenith in their spiritual attainment and at the same time provided necessary guidance to the rulers of their times in political field as well in founding respective kingdoms. More details of Saint Ramdas are available because he lived three hundred years later than Vidyaranya.
Suryajipant Thosar was a Kulkarni (village accountant) and owner of a tiny village Jamb in Ambad taluka of Aurangabad district (in present day Maharashtra). To him was born a second son on Ram Navami day of 1608 A.D. He was named Narayan but later came to be known as Ramdas.
As a boy Ramdas was playful and fearless. Hanuman was his favorite deity. When he was 12 year old, arrangements for his marriage were made, as was the practice. But young Ramdas by then had developed spiritual leaning and unable to convince his elders about his aversion for worldly life, ran away from home.
He reached Takali near Nasik on the banks of river Godavari and spent 12 years studying religious books and practicing meditation and other austerities. He established a matha or monastery at Takali, and installed the idol of Hanuman in the temple attached to the matha. He then started on an pilgrimage encompassing the whole of India.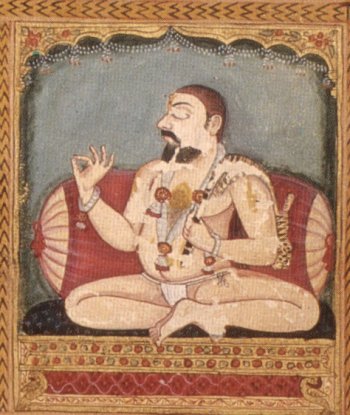 During this long journey, Ramdas had first-hand knowledge of miserable condition of subjects under the suppressive Muslim rulers. He also realized the factors leading to demoralization of people at large. He decided to make them aware of their duty towards God and their motherland. Ramdas was a gifted writer as well. He wrote Tirthavali recording his impressions of his pilgrimage. Two other works, Parachakra Nirupana and Asmani Sultani give a vivid picture of contemporary India. He established mathas which promoted disciplined spiritual life and social awareness in their own path known as Ramdasi or Samarth Sampradaya mathas.
Ramdas was a follower of advita philosophy. His Rama was Atmarama the soul. Ramdas wrote in Hindi also. His magnum opus is "Dasbodh". It is a compilation of practical hints to a householder to lead a pious and at the time useful life. Written in simple and catchy sentences, it is an extremely popular work in Marathi for people of all ages. There is advice for kids as well in which he mentions the importance of good handwriting.
He met Shivaji Maharaj sometime in 1672. Both were outstanding personalities in their respective fields and had at once "profound respect and admiration" which was mutual. Shivaji had his ideal preceptor in Ramdas though his spiritual guidance was available only for a few years of Shivaji's reign.
Saint Ramdas attained Samadhi at Sajjangad on February 2nd 1681 CE.
Some verses from Dasabodh "Those who believe in the multiplicity of Gods,
do not understand that God is one.
By reason, we can go in search of God,
and find out the oneness of Him,
setting aside the faulty concept of multiplicity of gods.

He is the resting place of rest
He is the first person the Adipurush and the spirit
He is the one and only one
and there is none else.

Wherever I go, I find God there
He is always with me
"
Ramdas says that the real devotee finds God at all places.