Peacock Culture
The Peacock in Indian Ethos
© www.kamat.com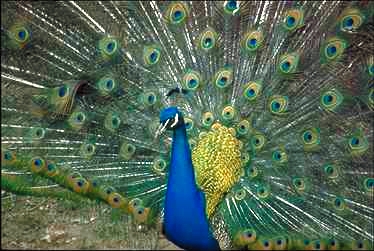 Dancing Peacock
Peacock is India's National Bird.
Mayur, Mhor or the Indian Peacock is one of the most beautiful birds. With multiple colors of green, dark green, blue, dark blue and spots of dark, the feathers are children's delight who collect and preserve them in books. Peacock is the national bird of India. The inexplicable color combination of feathers has found its way in Indian paintings, textiles and many of the plastic arts.
Mayur color sari has special attraction for women of India. The fiber of silk in its different varieties renders beautifully in peacock colours with its natural shine.
Lord Krishna is described as wearing peacock feathers in his crown invariably (Mor-Mukut), speaking of his forest or tribal origin. Indian classics describe the peacock feather dress of tribal especially Bhil women. The hunter class or forest-dwellers, who had no access to urban cotton clothing had to manage with leaf and feathers, stitched with bark thread. This also helped them with camouflaging while hunting. Painting of Lepakshi depict such women wearing clothes made from peacock feathers.
Peacock dance plays an important role in Indian ethos. It indicates advent of rain. There cannot be greater joy to the simmering, sweltering and extremely hot Indian subcontinent than the rainy season. The peacock starts to dance to welcome the gathering of clouds at the end of the summer, Indians believe. Actually it could be courting the pea-hen, as the season of mating for these birds starts with summer. Strangely, pea-hens do not have any shade of the glorious wings of its male partner and looks like any ordinary enlarged hen! The magnificent spread of colorful wings is the male's privilege. Rajasthan is home to thousands of peacocks. The art and architecture of the area is full of peacock-motifs.
Meat of peacocks is believed to be delicious. One of Emperor Ashoka's inscriptions speaks of restriction of meat-consumption to two peacocks in royal kitchen before he became a total vegetarian.
© K.L.Kamat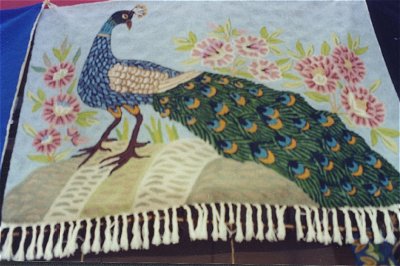 Colorful Peacock
Design on a Kashmiri shawl
Peacock feathers are used to make fans and small delicate brooms. The latter are used in the prayer-room of Indian houses to clean the sanctorum where the idols are kept and worshiped. Peacock feather fans and sweeps are a common sight in Indian cities.
But the cry of peacocks is harsh and alarming! The chit-chat, kekarava, keke is karkash or harsh and noisy, exactly the opposite of its most graceful appearance or movement. Besides, they are a big menace to the standing crops because they destroy more grains than they actually eat when they come in droves. Indians love and respect for this divine bird was matchless and desisted them from killing. But changing global weather and greed are playing a big role in diminishing of this beautiful bird.


• Kamat's (Real and Imaginary) Animals
• Search for Pictures of Peacock in Indian Culture
• A story about the Peacock Dress of Tribals