Indian Cockfights
Elephant-ride for a Cock!
Manasollasa, a handbook for education of Princes in medieval times, deals with several topics a would-be-king had to study. It also deals with amusements and pastimes he had to cultivate and patronize. One of such amusement described is cockfight. This Kukkuta-Vinoda or amusement with cocks describes at length with different species of cocks which were trained for the purpose. The fighting species were brought up carefully and fed with curd and ghee-rice. There were given hot water bath. Salt and mud was smeared to their tuft. They were then given training to fight on dry cow dung ground and sand pits. These cocks were protected from cats & dogs and locked in different coops, during nights.
On the day of cockfight, the king challenged his queen to match her trained cock with his. The ground was cleaned on the fixed day and cockpit prepared as per prescribed rules. Different parts of the pit were assigned to gods and goddesses. Sharp knives were tied to the legs of the cocks. Thereafter the movements were watched and victory or defeat could be predicted.
In the morning, dancers, musicians, the referees and the contestants assembled at the place of the fight. The King and Queen followed by party members took seats in the specially prepared pavilions. Spurs were tied to the legs of cocks and the fight started. A water clock was provided to mark time of the fight. The final victory was celebrated with cheerful greetings. The victorious party mounted shoulders of the vanquished party and their flag was snatched.
The victorious cock was mounted on an elephant and taken round the city in a procession which was accompanied by dancers and musicians. Betting was common in all the fights.
© K.L.Kamat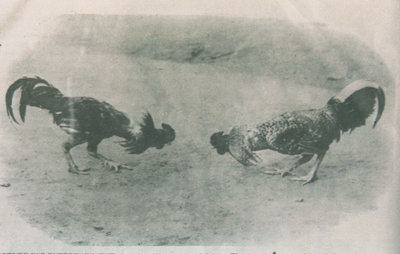 Cock Fight

Cockfight is a very ancient game and has survived in India since Vedic times. Bereft of its royal glory or community celebrations, it has become a gory game of village ruffians these days, usually played clandestinely. It is prohibited under law, but in the remote villages of North and South Kanara districts of Karnataka surrounded by dense forest, the cockfights go on, at times of village celebrations or special occasions betting & gambling continue in spite of the law.

See Also:
• Kamat Goes to a Cockfight
• Song of the Cockfight Wager