Gandaberunda- The Two Headed Bird

The mystical bird of Gandabherunda is featured in the emblem of the state of Karnataka. The compound name is made of ganda,the mighty, and bherunda meaning "two headed".

Its origin has been traced in hoary past in different ancient civilizations, more than 4,000 years back. The concept of two headed bird existed among Hittites, Egyptians and Sumerians as well as Hindus. The first human beings pondered over the regular movement of the Sun, tree of life and big birds soaring high in the sky all the time. This idea developed perhaps, into a celestial bird, watching in all directions.

In Egypt and Assyria it was associated with a fertility cult. It traveled through trading tribes to different regions of the then known world.

Vedic India had its concept of two birds moving eternally. Garuda in later times, received a divine stature as vehicle of Vishnu, with mythological significance. These two must have been behind the concept of mighty Gandabherunda.

In Indian subcontinent, the sculpture of this mythical bird found in Taxila (a.k.a. Taxasila) is the oldest.

The Legend of Gandabherunda

Lord Vishnu assumed avatar of Narasimha (half man-half beast) to slay demon Hiranyakashipu. But this avatar became so omnipotent that the benevolent gods began to fear of total destruction. Hence they prayed Lord Shiva. Shiva then assumed the form of Sharabha, (a mythical bird) and tamed Narasimha. (man-lion). Vishnu then transformed himself into Gandabherunda and faced Sharabha. Gandabherunda thus came to be known as symbol of immense power. Later this mighty mythical bird was adopted as an emblem by several rulers.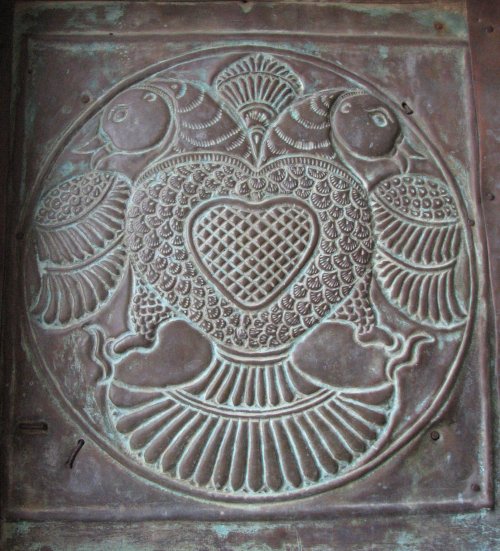 In Karnataka, the Balligave Gandabherunda is the oldest (1047 C.E). Installed on a tall stone pillar, this figure has human form and two heads of a large mythical bird with sharp beak.
This bird appears in many temples built in middle ages.
In Karnataka, Gandabherunda is carved in the scene of "chain of destruction", in the Chennakeshava temple of Belur (1113 C.E). A deer becomes prey to a big python, which in turn is lifted by an elephant. A lion attacks the elephant and the lion itself is devoured by Sharabha. Finally it is Gandabherunda which finishes off Sharabha.
Dr. K.L. Kamat, in his book, "Prani-Parisara" in Kannada has dealt with this sculpture as an ancient concept of food chain, in the environment.
During the Hoysala rule in the 13th century CE, Gandabherunda appeared on coinage as well. Vijayanagara King Achyutadevaraya's (1530-42 CE) gold & copper coins carry this symbol.
After the Vijayanagar rule, Nayakas of Madura and Keladi, continued the usage. Mysore Wodeyars also followed, by introducing a slight change of a lion and vyali in the paws of the bird.
Today, Gandabherunda occupies pride of place as Karnataka State emblem, carrying 4,000 years of history on its wings!