The Laughing Buddha.

These days, Indian toy market is full of grotesque figures in sitting posture having wrinkled forehead, protruding belly and grinning expression with raised hands at times. These artifacts are in plaster of Paris, wood, sandalwood, glass and metal. These statues adorn many mantelpieces of Indian homes, and some do call them image of "Laughing Buddha". It is curious that in India, the land of idol-worshipers where Buddha is considered and worshiped as an avatar of Vishnu, this weird looking image is only seen as a toy or show-piece! It is interesting to learn about this avatar of India's Buddha in China, and his journey back to India and rest of the world as symbol of health and prosperity.

© K.L.Kamat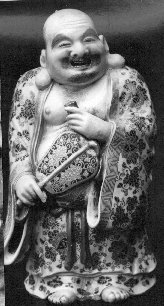 A Chinese icon from the Salarjung museum

By fourth century CE, Buddhism had taken firm roots in China with its mythology of Jataka tales. Maitreya a Bodhisattva was considered as future Buddha. In later century he is seen as an incarnation of Buddha himself. As a father figure he preached peace and patience. At some level a monk with these lovable qualities might have been associated with Buddha's incarnation as Bodhisattva. He could predict weather. He was seen as a roving monk who always carried a hemp bag full of curios. Hemp bag was symbolic of all goodies in life. Chinese believed this reincarnated Buddha-Maitreya always symbolized health and prosperity. The old hemp bag he carried was sign of good omen. His image in portraits started to be worshiped.
Many Chinese ideals are believed to have been represented in this idol of Buddha-Maitreya. The huge belly and hemp-bag denote prosperity. Like Indians of by gone days, Chinese believed that only a rich person who had enough to eat became fat. His reclining or sitting posture indicated spiritual contentment. In Chinese tradition, this Buddha is surrounded by large number of children, indicating a large family. He has always a smiling and friendly expression. For the Chinese, he was not only a deity. He represented several good things in life like longevity, health cheerfulness friendliness, mirth, and affluence.
"This is another instance of the Chinese appropriating an Indian Buddhist element and adapting it to the Chinese environment". Prof. Kenneth Ch'en writes in his book "Buddhism in China, A Historical Survey" published by the Princeton University.
The Laughing Buddha is back in India and preaching cheer and amusement.