Haste Runners of Postal Department

The Postal service and the Telegraph Service went together in olden times in India. My father Baba, who was a postmaster had to attend telegraphic messages as well and arrange for its quick delivery. He was provided with small residential quarters attached to the post-office by the Government to ensure that he was on-duty 24 hours a day.

Sending of urgent messages regarding birth and death through telegrams was very common. Telephone was still a half a century away. Usually the front portion of a rented house formed Post-office in small towns, and hind parts formed residential quarters to the post-master's family. The entry door inside the building from Post Office was bolted to stop entry to us from our "house" into the post-office.

But sneaking into the post-office after office hours was a favorite pastime for us. The Morse code which made sound "Katta Kada Kada Katta" most of the time and the person taking down the to message faithfully and using the instrument from our end in similar way was an exciting thing. Various seals, melted carbon balls and gum with burnt smell were other curious tools. Besides a spear with bells dangling on all sides was hung menacingly on a wall. A weapon in the Post Office! My brother Prakash later found that Puttu Fernandes, the Runner carried it like a Mahabharata hero!

The following picture, taken from an Indian Postal artifact depicts the scene so beautifully!

© Manik Jain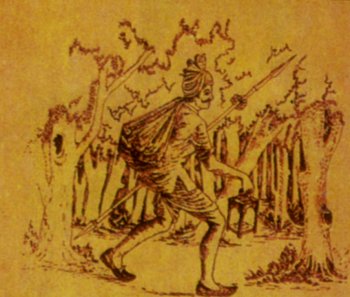 Early Postman of India Carrying Mail through Woods

A runner carried the post from Gokarn town to remote near by villages. In those days North Kanara district was known as forest district. Wild beasts moved on kachcha (uneven) roads, which passed through dense forests. The runner with the postal bag on his shoulder and the "spear" one in hand ran rough the lonely path. As he ran the bells rattled, keeping the wild beasts away. At times Puttu used to shout as he ran, and boasted that, tigers, hyenas, Pythons were more afraid of his voice than the jingling bells. Running miles in hot sun and rainy season was not a happy job. But for us children a big tiger, an elephant or a wolf running away at Puttu's noise was a thrilling story.
Of course, those days are gone many decades ago! Forests have disappeared. The (Postal) Runners post has since been abolished.
But I thought I'd document this memory as part of my series on my autobiography.