Musings on Mehendi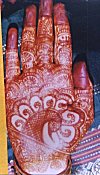 During this year (2007), I witnessed three weddings of my close relatives, and was surprised to see the important role of Henna or Mehendi has gained in the wedding ritual. It is not a native custom of the Konkani community, nor did it exist during my or my sister-n-laws' marriages. Suddenly this North Indian custom made its appearance in South and within two decades it has become universal and a must in a wedding household! Night previous to the wedding is totally devoted to drawing beautiful designs on hands and feet of the participants.
It is interesting to know this typically Muslim custom indicating an auspicious occasion has attained all Hindu relevance! Ancient Indian way of applying red color to lips, hands, nails and feet known as alaktaka (alta in Hindi) consisted of red colored lac or stone which had medicinal quality. But the present day Mehendi consists of paste of Madarangi leaves, with other ingredients.
Indian Muslims have the same sacred feeling towards Mehendi as Hindus have towards Kumkum and turmeric. During exchange of gifts between bride and bride groom's families, Henna box has special place. Even the bridegroom gets affectionate application of Mehendi from his close relatives. Mehendi indicates love, sanctity and auspiciousness.
Because of Muslim influence, North India has wholly adopted Mehendi for all auspicious occasions. Marwadi, Sindhi and several communities of Madhya Pradesh and Uttar Pradesh have accepted Mehendi application as a ritual preceding a wedding.
But the fact that it has entered the conservative south India is a new experience. Popularity of Hindi Cinema and Hindi Serials has contributed a good deal for wide spread use of Mehendi. It appears in all wedding scenes with exquisite designs.
Visit to the "Mehandi-Application Centre" in a corner of the marriage pendal could be exciting to youngsters. Experts of design-drawing are surrounded by women of all ages, waiting for their turn! The bride has to sit still over hours' she has enough time to dream over her forthcoming wedding honeymoon and exciting days ahead. Jokes, songs and incessant chatting indicates a "Mehendi-Centre". In olden times, songs were sung while applying Mehendi, blessing the bride and wishing all the best. Expert Mehendi designers have emerged who have great demand. Many chemical based Mehendi pastes are available in the Indian markets, that may be harmful for the skin.
Appealing items like eatable and cosmetics gain universality in no time. It is no wonder, Mehendi has become a "binding force" to India's caste-ridden society.