Swami Vivekanananda on India's Integration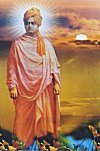 Swami Vivekananda felt that true nationalism in India can only be based on unity of religion. Here are some of his quotes -- to ponder on his birthday, today (Jan 12)
"The problems in India are more complicated, more momentous, than the problems in any other country. Race, religion, language, government – all these together make a nation. The one common ground that we have is our sacred tradition, our religion. That is the only common ground, and upon that we shall have to build."

The unity in religion, therefore, is absolutely necessary as the first condition of the future of India. There must be the recognition of one religion throughout the length and breadth of this land. What do I mean by one religion? Not in the sense of one religion as held among the Christians, or the Mohammedans, or the Buddhists….. We know that our religion has certain common grounds, common to all our sects, however varying their conclusions may be, however different their claims may be. So there are certain common grounds; and within their limitations this religion of ours admits of a marvelous variation, an infinite amount of a marvelous variation, an infinite amount of liberty to think and live our own lives".

"It is not only true that the ideal of religion is the highest ideal in the case of India, it is the only possible means of work; work in any other line, without first strengthening this, would be disastrous. Therefore, the first plank in the making of a future India, the first step that is to be hewn out of that rock of ages, is the unification of religion."

"National union in India must be a gathering up of its scattered spiritual forces. A Nation in India must be union of those whose hearts beat to the same spiritual tune"
Thus the ideal of nationalism preached by was based on the four principles:
The awakening of the masses who form the basis of the nation
Development of physical and moral strength.
Unity based on common spiritual ideas.
Consciousness and taking pride in the ancient glory and greatness of India
These were the four pillars on which, according to Vivekananda, Indian nationality must rest.
It can be hardly denied that he was the first who clearly emphasized these ideas and directly contributed, perhaps more than anybody else, to sow the seeds of national development of this line.