Remembering DVG
Dr. D.V. Gundappa (1887 - 1975)
© K.L.Kamat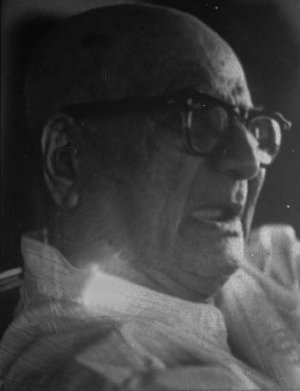 Kannada Poet DVG
A rare photograph from N.M.K.R.V. College collection
Doyen among Kannada writers and thinkers, Dr. Devanahalli Venkataramanayya Gundappa or simply known as D.V.G. is famous for versatility. He wrote poetry, plays, biographies, essays and on philosophy, religious and political subjects. His interpretation of Gita is highly readable with elucidation of several day-today problems for which he has pointed out, the great Hindu text has solutions. He has also translated world classics, among which Rubaiyat of Umar Khayyam tops. Manku Timmana Kagga, considered as his masterpiece is at once poetry, philosophy, and mirrors aesthetic outlook of life combined with moral approach. Something old and something new, always lurks from his writings, throwing light on the ephemeral word.
Gundappa belonged to a very ordinary family of Tamil Brahmins who had made Mulbagil of Kolar district their home. He studied in the local school and went to High school at Kolar. He appeared for Matriculation examination but did not get through Kannada, Mathematics and Science! (Year 1905)
His formal education ended there. A voracious reader, he mastered Sanskrit, Kannada and English literature. He became a columnist for English and Kannada periodicals and took up translation work. History, jurisprudence, political science, poetics, economics were all his favorite subjects. Music and dance were also close to his heart and he heard and wrote about several masters in this field.
He published more than fifty books consisting of 8,000 pages. Another 1,500 pages of editorials, reports, speeches, statements and reviews several of which remain unpublished. Department of Kannada and Culture of Karnataka State, has brought out 11 volumes of his writings, ably edited by late Dr. Ha.Ma. Nayak during birth centenary year of the great scholar (1985).
D.V.G. was closely associated with several distinguished public personalities of his time. Sir M. Vishweshwaraya, Sir Mirza Ismail, and other prominent administrators, C. Rajagopalachari, Rt. Hon. V.S. Srinivasa Shastri, Masti Venkatesh Iyengar, Navaratna Ramrao, G. A. Natesan are only a few names with whom he was closely associated. He founded the Gokhale Institute of Public Affairs in 1945, which has rendered yeomen service in creating social awareness through discourses and publications. The institute also houses rare volumes on religion and culture and forms a popular shelter of researchers.
D.V.G. was an unassuming and simple person. One of his famous poems is 'Vanasuma' or 'Flower in wilderness'. It was his ideal to live and fade like that flower, totally unnoticed. But he could not escape publicity evoked by his popular writings. Mysore University bestowed honorary doctorate. His treatise on Bhagavadgita got him Central Sahitya Academy award. He presided over the 18th All India Kannada Literary Conference, Government of India conferred 'Padmabhushan'. He rejected the monthly pension of 500/- Rupees, the State Government granted. The purse of 1,00,000/- Rupees offered at a public felicitation function was donated by him to Gokhale Institute.
His only son Dr. B.G.L. Swamy was also a distinguished Kannada writer and botanist of international repute.

See Also:
• D.V. Gundappa