Devil worship of Tulunadu

If devil-worshipers were to be considered as a sect, nearly 75% of the population of South Kanara district of Karnataka are bhuta worshippers. However bhuta cult should not be mixed with demonolatry. (bhuta or bhoota as a common term means 'devil' or 'demon' in Kannada]. The word bhuta is tied with an ancestor and the worship is dedicated to the spirit of a deceased celebrity, a benefactor or hero. At times it could be spirit of, the jungle, an epidemic or pestilence. There are bhutas that play tricks and that protect as well. Hence they are to be propitiated often. No doubt it is a tribal custom easily stepping into Hinduism of myriad god-worship.

Bobbariya, is a popular bhuta. Others are:
Panjurli (pig-devil) Naga (serpent), Pili (tiger) and Kallukuti which have animistic or totemistic origin
There are deified humans or heroes like Annappa, Abbakka and Koti Chennaya.
There are some from puranas like Bhairayi, Berme, Kshetrapala, Kalaratri.
The bhutas of regions and borders like i) Maleraya, Malechan ii) Ullaldti [bhuta of Ullal etc.
Once a year, a festival is conducted to propitiate these bhutas, separately, which are known as nema, [bandi] [= ratha or chariot in spoken language] and Kola. Kola is widely prevalent. Mostly animals like sheep, goat, cock are offered as blood sacrifice known as bali.
© K.L.Kamat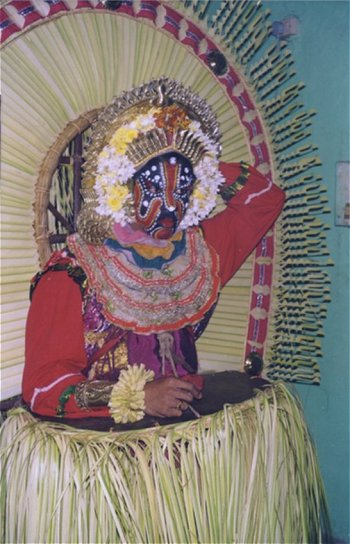 Ghost Dance
The "Preta-Nritya" is a popular form of dance performed to please spirits in South Kanara
Devil dance is inseparable part of a Kola in which folk-instruments are used. Paddana or folk songs convey the story of each bhuta. The priest or pujari is Billava caste and devil dancers are dalits. But each caste has a marked duty in a Kola because it is a community festival.
Each community like Nalke, Pana and Koraga had their own costumes, headgears ornaments and rituals. Heavy bells at the ankles, dress of split tape of coconut leaves, and painted face indicate a [patri] or head-dancer. Drums of Koragas are resonant. Also their caps of Betel sheath are peculiar.
Institution of trance or oracle is invariably associated with bhuta worship, and to this day people throng to consult the Patri in trance. To innocent villagers and believers it provides "divine guidance" to curable diseases. It certainly provides psychological security. Fire-walking is a ritual in some places.
Cock fights and buffalo races (known as "Kambala") were arranged which were most joyous occasions to rural people.
In Mekkekattu village (Udupi district) there is huge concentration of wooden masks and sculptures. These are mainly of bull, unicorn, tiger, elephant, bobbaria (devil of fishermen). In nearby Bailuru ( in North Kanara) Jatka wooden idols are found. Jatka is equivalent to bhuta. These form part of Siva's gana or attendants as per the belief of locals, and hence deserve worship.
Worship of bhutas indicate both Brahmanical and non-Brhmanical forms. Nowadays bhuta dance has attained a form of popular entertainment.
© K.L.Kamat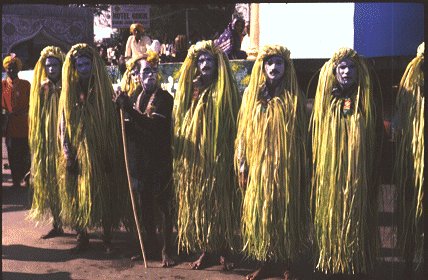 Preta Nritya -- Ghost dance of South Kanara