Sea Navigation in Ancient India

It is amazing to learn that navigation existed beyond continents in hoary past, among countries of different civilizations. Ships plied to and from India, 5,000 years ago, to Babylonia, Mesopotamia, Egypt and countries of Europe. At Mohenjodaro, (now in Pakistan) Harappa and Lathal (10 miles away from gulf of Cambay (Gujarat), archaeologists have unearthed evidence of sea-trading and ship-building. The Harappan seals of steatite and baked clay are interpreted as trademarks, used by merchants to specify their goods. Such seals are discovered in areas of ancient Sumerian civilization. A fairly large-sized brick-lined dockyard was excavated at Lothal . Sea-going ships of those times had high prow and stern, single or double mast, rectangular sail, oars, paddles, rigs and anchors in the form of heavy stones. There were shore-sighting birds with the crew. The dockyards worked on tidal principle and had wooden gates. Mariner's compass was non-existent.

From the Vedic literature (3,000 B.C), we learn that there were vessels of different types mainly sailboats having a hundred oars at times. Several names existed as per type. Buddhist literature reveals evidence of sea and ocean voyages. Big merchant-ships regularly plied between India and regions of Far and Near East. Some of these were large enough to accommodate 800 passengers besides merchandise. Tilakamanjari a Sanskrit work of 9th century CE contains details of activities of a port-town and embarking rituals for a distant journey.

Ship-building was an active public-sector industry in Mouryan times. Navadhyksha or superintendent of shipping was an important official.

Indian ships were built of strong and processed timber which withstood corroding salty waves, rough weather and rocky riverine passes. A Sanskrit treatise Yukti-Kalpataru mentions 10 types of ships & masts of different size as also their color.

© K.L.Kamat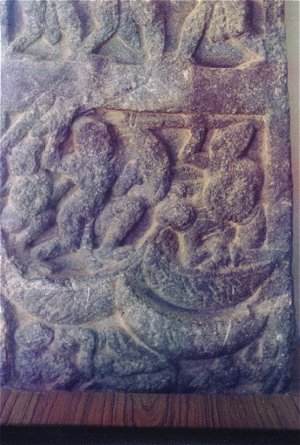 Close up of a Boat Hero
Panaji Museum in Goa
Overseas trade flourished wherein India had to offer innumerable goods from spices, perfume, sugar, silk, medicines and animals. The state of Karnataka had pride of place in seafaring. An 11th century Ballegavi inscription tells about corporate body of Nandesis, "who penetrated regions of six continents (Shatkhanda) by land or water, dealing in horses, elephants, precious stones, perfumes and drugs". Rashtrakavi Govind Pai has identified Kannada words in a 2nd century manuscript discovered in Memphis (Egypt).
Fa Hsien, the monk who visited India in 5th century CE in to study Buddhist scriptures had passed through Buddhist and Hindu colonies right from Sri Lanka on his return journey to his homeland. The Tamil land had leading role in establishing Indian culture in near eastern countries throughout. Nearly 2,000 nautical words are traced in Tamil language. Several Borobudur sculptures in Java depict sailing scenes.
© K.L.Kamat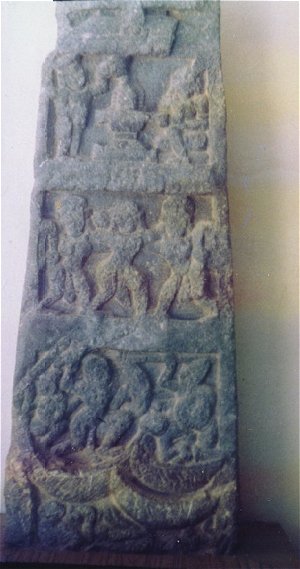 Boat Heroes - Memorials Erected for Brave Seamen
Panaji Museum in Goa
Some hero-stones of Goa and Konkan have carvings of naval battles, wherein the hero died fighting while at sea.