Dr. Narayan Subba Rao Hardikar (1889 –1975)

The Indian freedom struggle witnessed emergence of great leaders who chose their own field of service in the cause of the nation. Dr. N.S. Hardikar was one of them. His Hindustan Seva Dal (India's Service Team), rendered yeomen service in training million youngsters throughout the country. Specialty of Hindustan Seva Dal or simply known as Seva Dal was to dedicate oneself completely for national upliftment in the most organized, & disciplined way as volunteer and fight for Independence.

© K.L.Kamat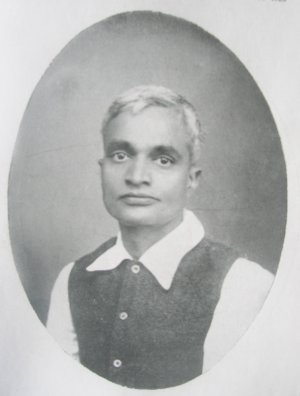 N. S. Hardikar (1889-1975)
Dr. Narayan Subbarao Hardikar
This meant silently suffering all police atrocities without resisting. Special physical and psychological training was given in Seva Dal camps to develop these traits, essential for a Satyagrahi. Narayan was born in a village in Dharwad district and had primary schooling in his native village. He used to have a team and walk miles together to Hubli Dharwad which was a center of socio-political activities. He helped in bringing out Kannada Version of "Kesari" the famous Daily of Lokamanya Tilak.
As a lad he volunteered himself for all social activities. Alur Venkat Rao remembers an incident when a fire broke out in Hubli-market place. Narayan the daredevil, jumped into the burning place and saved several lives, and property. He himself suffered bad burns in both his legs and was bed-ridden for four months. Alur thought that such an extra-ordinarily courageous person could be of immense help in the National Struggle.
Alur encouraged Hardikar to take up medical course, which he completed in Calcutta Medical School (1913). But riskier and greater job was planned for him. Knowing that Hardikar wanted to proceed to U.S.A. for higher studies, Alur helped to mobilize funds, which partly covered one way trip. Secretly the trip was meant to create public awareness among Americans about India's freedom movement.
Dr. Hardikar did his MS in medicine from University of Michigan. He also took up study of civilizations at the University of Illinois. He was closely associated with Lala Lajpat Rai, and worked for Indian Home-rule League from America. He was the League-secretary from 1916-1921. He returned to India in 1921 and made Hubli in Karnataka his home. Tilak Kanya Shala were opened in Hubli, to provide education for girls and make them self-sufficient. Rural upliftment, health and hygiene, formed part of constructive work he undertook. Bhagini Mandal.
Dr. Hardikar was a born organizer and had a special attraction for youngsters. Special training was required to channelise the energy of the teaming millions for national struggle. Hindustan Sevadal was born (1923). Jawaharlal Nehru was made the first president of Seva Dal. Gandhijis last act as Congress President of Belgaum Session was the investiture ceremony of the Seva Dal volunteers which seemed to youngsters like Kamaladevi his personal blessing in 1924.
Seva Dal started having branches throughout the country. Physical culture had priority. Native exercises like wielding of lathi stick, danda (cudgei) bhala javelin, sword and dagger play, were introduced along with Suryanamaskar and Yogasanas. When adapted for mass performance, these appeared almost Martial. British banned Seva Dal and imprisoned Hardikar.
But nothing prevented him from continuing with medical social service. Welfare activities were managed by his assistants during jail period. Arogyadhama in Ghataprabha was opened (1935) with Tuberculosis Sanatorium. Tuberculosis was the most dreaded disease at that time. As a physician, Hardikar rendered service for life, in Ghataprabha. He kept away from active politics but was made Rajyasabha Member in (1952) and accorded Padmabhushan title in 1958. Dr. Hardikar provided guidance to leaders like Umabai Kundapur and Kamaladevi Chattopadhyay. Eminent social workers like Surendra Koulgi are products of Sevadal.
See Also:
• Biography: N.S. Hardikar -- From Kamat Research Da