Store house of Folkore
Sukri Bommu Gowda (born c.1930)
Ankola Taluk - in North Kanara district has always enjoyed pride of place not only in Karnataka state but in entire India because of its prime role in Salt Satyagraha, and civil Disobedience movement during struggle for Independence. The great poet - educationist Diankar Desai worked from Ankola. Scores of Freedom fighters who risked their life & limb during Quit India movement hail from Ankola. Sukri Bommu Gowda, a legendary tribal singer of this region has made her people proud by winning one more state award Nadoja, named after Nadoja Pampa the great poet (Nad = country, Oja = Guru ) recently.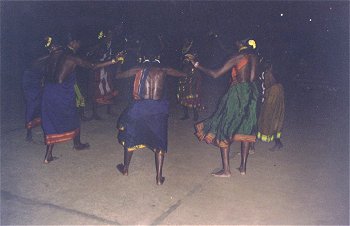 Sukri Gowda Leading a Group Dance
This elderly, illiterate Halakki tribal dame Sukri was married at the tender of 12 to a 45 year old widower Bommugowda. She herself was widowed shortly thereafter and spent her life time as a casual laborer in fields, and bringing wood from the jungle and selling it.
But she excelled in singing. She knew hundreds of folk-songs, which she heard from her elders. She herself added few hundreds more composing them extempore and regaling the audience. But for her keen memory and clear intonation, scores of Halakki ballads and song stories would have been lost forever.
The Halakki Tribals are getting urbanized and within the last ten years they have lost many of their tribal customs, singing and dancing.
It was by sheer chance that her singing talents came to light. She got the Folk Music Yakshagana Academy Award in 1988, Rajyotsava Prasahsti in 1998 and Janapadashri in 1999.
But all these awards and titles have not affected the innocent, lovable granny. She had gone to jungle to collect fire wood for her subsistence, when the prestigious prize was announced.
She lives with her adopted son and his family, but strives hard to keep herself economically independent. She has rendered social service as well, by involving herself in popular movements like the Anti liquor agitation.
She is sad for her own tribe which was earlier known for hard work, perseverance, honesty and God fearing nature. She says her community has taken to drinking and is on verge of decadence. She tries to spread cheer and mirth by her singing and dancing and never gets nervous at public performances. She is always seen in her tribal finery of necklaces of countless beads and the Halakki way of wearing the blouseless saree.
Age has not withered her.