Remembering Rani Chennamma of Kittur
(Occasion; Remembrance of 150the year of struggle for Independence)
Recently I was traveling by Rani Chennamma Express train from Bangalore to Dharwad. It runs between cities of two erstwhile Maharajas. Those of Karnataka and Kolhapur, and passed through Hubli-Dharwad and Belgaum. Near Belgaum is Kittur, now a small town. Relaxing on the comfortable couch, I tried to recollect the brave queen Chennamma's encounter with the British to save her independence and her small principality of Kittur.
© K.L.Kamat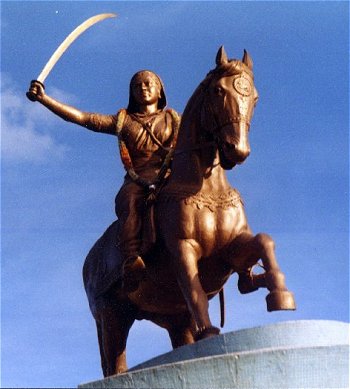 Queen Chennamma of Kittur
Statue of queen of Kittur in Bangalore
Chennamma (1778-1829 CE) was born at Kakati (Belgaum district) and had the proper education, girls of the ruling class got in those times. She was married to Mallasarja Desai, ruler of Kittur at the age of 15. After his death, his son Shivalingarudra Sarja who had no children adopted a boy, Shivalingappa who was his relative. Shivalingrudra died prematurely and Chennamma ruled as the regent.
The Doctrine of Lapse was imposed on native states by the British. Under this declaration, native rulers were not allowed to adopt a child if they had no children of their own. Their territory formed part of the British Empire automatically.
The state of Kittur came under the administration of Dharwad collectorate in charge of Mr. Thackeray. Mr. Chaplin was the commissioner of the region. Both did not recognize the new ruler and the regent, and informed that Kittur had to accept the British regime.
Both the local people and Rani Chennamma opposed strongly British high handedness. Thackeray invaded Kittur. In the battle that ensued, hundreds of British soldiers were killed along with Thackeray.
The humiliation of defeat at the hands of a small ruler was too much for the British to swallow. They brought in bigger armies from Mysore and Sholapur and surrounded Kittur.
Chennamma tried her best to avoid war; she negotiated with Chaplin and Governor of Bombay Presidency under whose regime Kittur fell. It had no effect. Chennamma was compelled to declare war. For 12 days, the valiant Queen and her soldiers defended their fort, but as is the common trait, traitors sneaked in and mixed mud and dung in the gunpowder in the canons. The Rani was defeated (1824 CE). She was taken a prisoner and kept in the fort of Bailhongal for life. She spent her days reading holy texts and performing puja till her death in 1829 CE.
Chennamma became a legend. During the freedom movement, her brave resistance to British formed theme of plays, songs, and song stories. Folk songs or lavanis were a legion and freedom struggle got a good boost through singing bards who moved throughout the region.
It is heartening news that a statue of Kittur Chennamma was installed in the Parliamentary Building premises at New Delhi on 11th September 2007. It is the most fitting tribute to a brave queen, who was the earliest ruler in India to fight the British rule.