Pearls are Forever
Pearls Forever!
© K.L.Kamat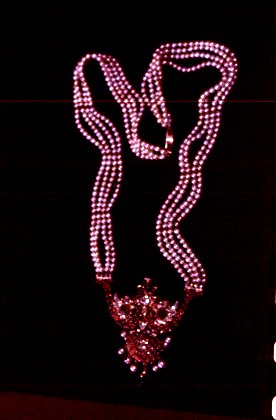 The Pearls of Mysore Maharaja

Pearls occupy a very important place in Indian Life. In the days when cultured pearls were not discovered, only natural pearls had to cater to the ceaseless demand of the country. From rulers to humblest subjects, besides pearl offering to deities, necessitated supply incessantly.
From the earliest times, Pandyan country in South India had been the main supplier of pearls. Gujarat also had its share in collecting pearls.
© Project Gutenberg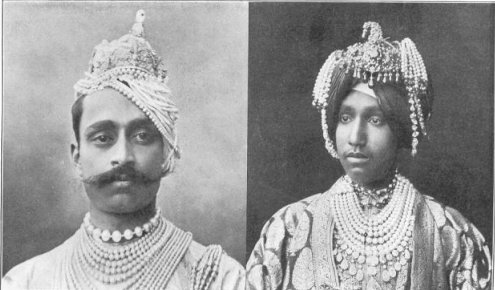 The Princes of Pearls

Marco Polo, who is called "Prince of medieval travelers" spent six months in South India in 1292-93 CE. He has left some details of pearl industry in the shallow waters of Indian Ocean between Coromandal coast and Srilanka.
Without any mechanical aid the fishermen dived into the sea, collected pearl oyster shells, put into the net they wore round their waist then came up for breathing. Same process followed. They took some Brahmins with them who uttered mantras and kept the big and poisonous fish attacking pearl-fishers! These Brahmins got 1/20th share of the pearl-catch and the King got 1/10th share. Even then the merchants made lot of profit.
Natural pearls are produced by accident, by wild oysters and mussels in seas, rivers and lakes from layers of calcium carbonate. These layers are known as nacre. Such layer deposited in concentric circles of oyster shell forms a pearl, in helpful water surroundings.
"Cultured Pearls" came into existence in the first decade of 20th century. The Japanese who discovered developed it on a large commercial scale. A bead implanted in an oyster shell together with required oyster flesh stimulated the oyster to produce nacre. There are in addition, imitation pearls as well. Natural pearls do not have the same required shape and density. But cultured and imitation pearls could be obtained as desired. Only an expert eye can detect natural pearl from cultured pearl of high quality.
© K.L.Kamat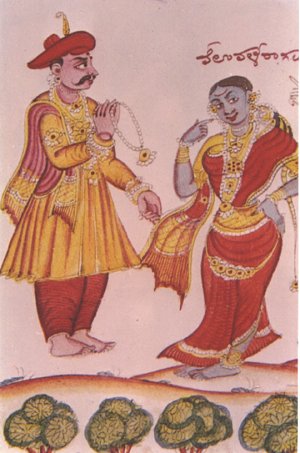 A Noble Offers a Pearl Necklace to his Lover
Illustration from Ragamalika, c. 19th century
The pearl or Muktaka-Moti or Muttu forms important role in Indian literature. Simile of a pearl appears in literature in umpteen forms and natural pearls from Elephants temple, and automatically split ones from wild bamboos are legendary. Pearls make innumerable ornaments for head, neck, ears, nose shoulders, waist and ankles with combination of different jewels according to Manasollasa. In my childhood, seven pearled round studs were a common wear for Konkani and Maharashtrian women. Though the poor managed with light and very thin gold rings, it was their dream to possess pearl ear studs. With availability of cheaper imitation pearls, cosmetic jewelry in India has received a big boost.