Idolatry among Hindus
Al-Beruni on Idolatry among Hindus
Al Beruni (973-1048 CE) was in India for more than six years to study Sanskrit, astronomy, mathematics and Hindu religious texts. His observations on religious practices sound relevant even after a millennium. The difference he noted among ordinary Hindus and those who tried to understand true nature of God are noteworthy.
"It is well known that the popular mind leans towards the sensible world, and has an aversion to the world of abstract thought which is only understood by highly educated people, of whom in every time and every place there are only few. These words of mine would at once receive a sufficient illustration. For example, a picture of the Prophet were made, or of Mekka and the Ka-ba, and were shown to an uneducated man or woman, their joy in looking at the thing would bring them to kiss the picture, to rub their cheeks against it, and to roll themselves in the dust before it, as if they were seeing not the picture, but the original, and were in this way, as if they were present in the holy places, performing the rites of pilgrimage, the great and the small one.
This is the cause which leads to the manufacture of idols, and monuments in honor of certain much venerated persons, prophets, sages, angels, destined to keep alive their memory when they are absent or dead, to create for them a lasting place of grateful veneration in the hearts of men when they die. But when much time passed after setting up of the monument, generations and centuries, its origin is forgotten. It becomes a matter of custom, and its veneration a rule, for general practice.
© K.L.Kamat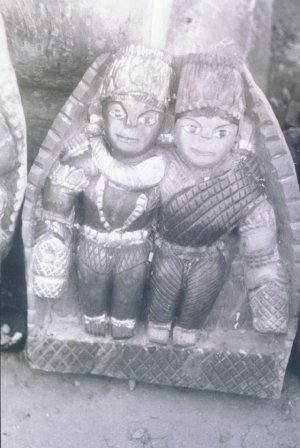 Lord Shiva and Parvati
Idols of native people, the village of Chotedongar
This being deeply rooted in the nature of man, the legislators of antiquity tried to influence them from this weak point of theirs, Therefore they made the veneration of pictures and similar monuments obligatory on them, as is recounted in historic records, both for the times before and after the Deluge. Some people even pretend to know that all mankind, before God sent them his prophets, were one large idolatrous body.
We declare at once that idols are worshiped only by the common uneducated people in India. Those who march on the path to liberation, or those who study philosophy and theology, and who desire abstract truth are entirely free from worshiping anything but God alone, and would never dream of worshiping an image manufactured to represent Him.
From: Dr. Edward C. Sachau's English Translation of Arabic text 1888.
See Also:
• Idolatry in India