Kathakali Dance

Kathakali (a.k.a. Kathakkali and Kathakhali, but not to be confused with Kathak dance) is a popular dance form of India peculiar to Kerala. Its name is derived from two words "Katha"-a story or narrative and "Kali" meaning art or "dance". Depiction of mainly an episode or story from mythology through facial expressions, dance and acting to the accompaniment of music, mainly drums, forms soul of Kathakali. It lasts hours in the form of dance-drama.

© K.L.Kamat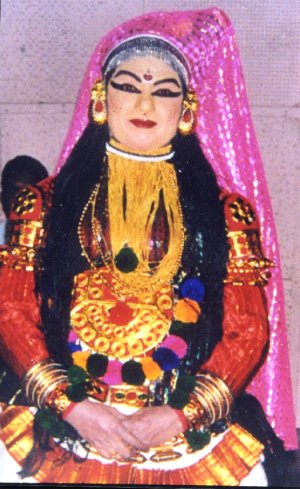 Kathakkali Dancer from Kerala

Folk or semi-classical plays through danceform, are common throughout India and they have taken many regional forms. Episodes from Ramayana and Mahabharata are common because of their popularity. In Kerala also this form existed from ancient times, surviving as temple dance. But it is Prince Kerala Varma of Kottayam who gave Kathakali its present specific form in mid 17th century. He composed a few dance-dramas himself and the name 'Kathakali' himself. Earlier these were known as Krishnattam & Ramanattam, based on sequences from great Indian epics of Mahabharatha and Ramayana.
The Kathakali art thrived on royal patronage. Few well known temples also had their own troupes.
© K.L.Kamat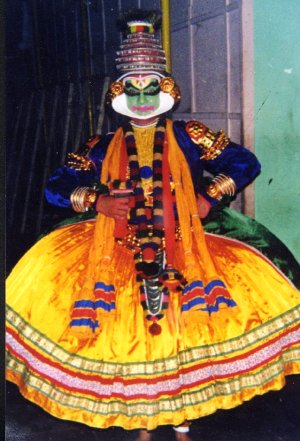 Kathakali Dancer

Gaudy painting of faces, high and decorative headdresses and gorgeous costumes typify Kathakali dance form. Depictions of moods through facial expressions are the forte. It takes hours to get the faces of actors painted, depending on the role as a monster, emperor, sage or a warrior. Sattvika or milder moods are depicted by green color, Rajasa or the Vigorous by red and Tamasa or the anger and hot temper by black. Rajasa + Sattvika moods have yellow color in depiction.
Years of rigorous training are required in shaping up a Kathakali dancer. Specific exercises and painful massage of hours makes the body supple. Waist, back and legs get special attention. Eyes (vision?) get exercise at 4 A M in utter darkness in the mild candlelight. The Guru directs the movement of eyes with a rod. The training lasts for two hours.
Special drums and cymbals form accompaniment. Some opine that the movement of ocean waves, splatter of rain, forceful wind, typical nature of Kerala is reflected in the slow as also rigorous beat of drums synchronizing steps of Kathakali. It indeed is a colorful and lively representation of Indian Classical dance with regional touch.

See Also:
• The Dances of India