Gandhi of Karnataka - Hardekar Manjappa
Hardekar Manjappa (1886-1947) - "Gandhi of Karnataka"
Many state and national level leaders emerged during struggle for Indian Independence, who are known for their selfless service in the field of education, social service, medical and handicrafts fields. Karnataka also has its major share of philanthropists and humanitarians who got inspiration from Mahatma Gandhi. Umabai Kundapur, Kamaladevi Chattopadhyaya, N.S. Hardikar are such leaders who spent their life in social service. Late Hardekar Manjappa went a step further. He lived, ate, spun, taught and wrote in the Gandian way, observing total celibacy. He is called Gandhi of Karnataka. Very few can reach that height in self-abnegation inspite of solid contribution in many fields that touched everyday life of the commoners as also the down trodden.
© K.L.Kamat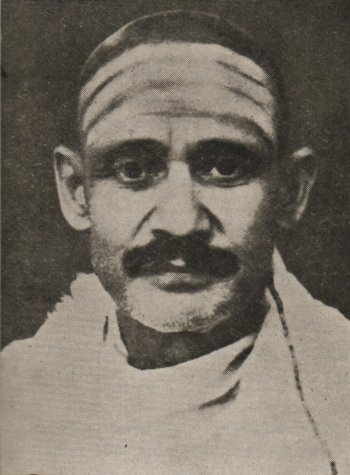 Hardekar Manjappa (1886-1947)
Manjappa was known as the "Gandhi of Karnataka"
Hardekar Manjappa was born in a poor family of Banavasi, village of Uttara Kannada district which was earlier a seat of learning and capital of the famous province of that name which the great poet Pampa has immortalized in his epic. He studied in nearby town of Sirsi and passed the Mulki or primary school final examination in 1903. He was then appointed as teacher on a salary of seven rupees a month.
He had writing skills and wrote nursery rhymes and action-song for children and devised his own ways to teach children. He wanted to study Sanskrit and English but having no facilities of a Guru, became self-taught person.
Swadeshi movement was on. He and his elder brother were very much influenced by Tilak's well known Daily Kesari, and obtained permission to translate several articles from Kesari into Kannada. The brothers knew Marathi and opened a weekly Dhanurdhari, (Bowman) with more than 10,000 subscribers in a short while. But one cannot run newspaper without resources on empty stomach. Some of the copies of Dhanurdhari, found way in Old Mysore State and the then Dewan of Mysore, V.P. Madhav Rao found some of the articles provoking, banned it and warned of dire consequence. Closure followed.
Manjappaji decided to lead the austere of life of a celibate and gave up salt, spice and even sugar from his normal diet of dal and rice. He felt controlled diet helped a person to lead totally pure and controlled life. He spun & wove and propagated Khadi through a monthly 'Khadivijaya'. He wrote a book on science of Khadi As well.
He was slowly drawn to Saint-Reformist Basaveshwar's teachings. He was shocked to observe so many groups and sects among Veerasaivas. This sect was born to eliminate casteism and a myriad evils & superstions connected with it. He wrote several booklets to bring out essential teachings of Basaveshwar & tried to bring out unity among his later day followers. These book-lets were distributed free. The saintly Pontiff of Lingayats, Mrityunjaya Swamiji of Murugha Matha Dharwad helped him in this endevour.
He opened an ashram school in Almatti in 1927. Before that he toured hundreds of villages of North Karnataka to create awareness about Gandhiji's constructive programmes. He had seen lot of similarities between teachings of Basaveshwar and Gandhi and the simple village folk could follow easily whatever Manjappaji spoke from public platform. More than a thousand lectures he delivered on Satyagraha, patriotism, nationalism, gendre-equality etc. He stayed for three weeks in Sabarmati Ashram of Gandhiji, to have first hand experience of a Satyagrahi. He helped organize several social service camps of Congress Party, without joining the party. He had a leading role at 1924 session of Belgaum of Congress Party.
He has written 20 books including his autobiography. He underwent several trials and tribulations to see his country become independent but breathed his last on 3rd January 1947, a few months before India became a free nation.