Urilinga Peddi: Dalit Sharana and Pontiff
Urilinga Peddi: Dalit Sharana and Pontiff
Urilinga Peddi (C-1150-1200) occupies a unique place in Virashaiva movement of India. He belonged to the low caste and was a robber. Once Peddi had gone to steal at the residence of Surayya, a rich man and devotee of Urilingadeva, a great Shaiva Saint. Peddi heard the exposition of scriptures and way to pious life. Peddi was a changed person onwards and for twelve years he brought firewood to Urilingadeva's hermitage without being noticed.
Once Urilingadeva caught him and was impressed by his piety. Peddi, who was worshiping that Saint as Guru, insisted that he may be initiated under the guidance of the Saint; Peddi became well versed in Sanskrit and Kannada religious lore. He attained proficiency in all Shastras and Shaiva rituals that Urilingadeva nominated him as his successor of the Matha he was heading, displaying thereby spirit of castlesness and communal harmony in the medieval times. Peddi's wife Kalavve was also educated and spiritually inclined. The couple were widely respected for their learning. Later Virashaiva classics and their Vachanas or sayings are profusely quoted. Both have several Vachanas to their credit. Kalavve is much respected Sharane because of her Sanskrit learning.
© K.L.Kamat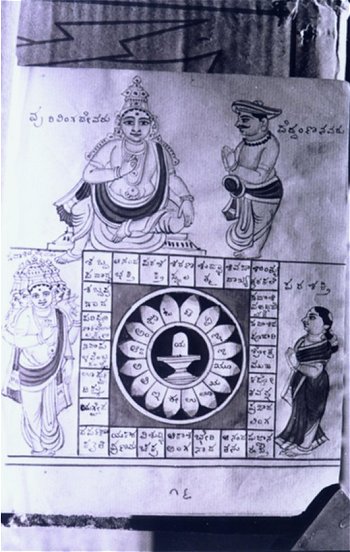 Illustration Showing Peddamna
Also known as Urilinga Peddi, Peddanna was the first Dalit Sharana saint
Casteism prevailed in spite of all revolutionary teachings of Basava and his contemporaries like Urilingadeva. There are smaller Mathas in Gulbarga-Bhalki region which owe allegiance to Urilinga Peddi and whose followers are Dalits only. But the Swamijis are not. Urilinga Peddi enjoys the sole credit of being the first Dalit preceptor and pontiff in dark medieval times.
Vachana of Peddanna
Shiva is God. Non-Killing is religion
Abstaing from unlawful things is righteousness
Non-greed is penance; non-anger is japa (prayer)
Non-deceipt is devotion. Avoiding faults
(Consciously) is discipline. He knows,
He who is fond of Urilinga Peddi Knows!
Vishweshwara!


See Also: Vachana Literature, Lingayats, Holymen of India, Dalits