Karnataka Election Galore 2008
Election Galore 2008
Electorate of Karnataka State has gone to polls, facing one more unwanted, unneeded election, thrust on them before time, by the bickering political parties.
World's largest democracy (or "world's biggest functional anarchy"! --as Late Prof. Galbraith, former US Ambassador to India and a famous political economist put it) is showing experimentations with each election, befitting its unique title of "Sovereign Democratic Republic of India". The constitution makers could never dream of ugly turns the election process would take after 60 years of Independence.
During India's freedom struggle, the cream of society who had entered the fray were selfless and genuinely thought of the welfare of the country. Later they stood for elections, won and ran the government, but things have changed.
Direct voting and adult franchise perhaps were an immature way of electing, for a huge country like India used only to hereditary monarchy over ages. Annie Besant was the only person who foresaw the evils and warned about the misuse of adult franchise as it was planned earlier to independence.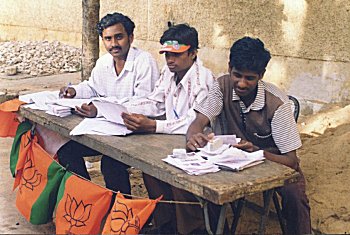 Election Workers, India
During the half century, India has absorbed many of so-called evils of election modes existing in the west. Money began to assume the biggest role, with the result, only the rich and influential persons are able to contest the elections. Wooing voters, through distribution of money, drinks and clothes became common. Money made through unscrupulous means flowed in. As is common, power and money go together and legislation will take its slow stride as per convenience of lobbies of party in power. In fact most of the political terms are taken in India, from American governing parlance like rigging, rigmaroles filibustering lobbying, drum-barrelling etc.
Monarchy, which was hereditary is abolished in India. But in its place dynastic democracy has set in. If Nehru-Gandhi dynasty has its say at the center, progeny of the so called 'leaders' at state level set their claim to rule. The result is not very different from an insect flying into fire to escape the frying pan, to use an Indian expression.
But there is a silver lining. The Election Commission of India is doing an excellent job by controlling malpractices and ensuring free and fair elections as far as possible. It was Mr. T.N. Seshan in 1990's who fully exercised his authority given by the constitution. Others have followed suit.
My late husband Dr. K.L. Kamat exercised his right to vote for the first time in 1994 when he was 56! Somehow his name was missing from voter's list throughout. Kamat was excited to cast his vote and still more when he saw again and again pictures of women with babes in arms, old people in crutches, or on shoulders of youngsters reaching polling booths to caste votes. "This makes me proud! This can happen in no other country. Commoners queuing up to elect their rulers and exercising their democratic right!" He used to exclaim.
Yes, they indeed do. Free India does provide a role model to countries who genuinely aspire to conduct fair and free elections. But alas! The Indian voters are yet to realize the immense power of their individual voting. They are yet to question, why persons with shady background are given tickets by political parties. They are yet to retaliate, when unwanted elections are thrust on them. After all elections in India, cost crores and crores of Rupees which could have been otherwise spent on improving basic amenities which it sadly lacks. And all the elections...only to elect power lusty leaders, who manipulate things once they are in power. At times only hung assemblies emerge, after gala spending, media hype and endless promises by candidates.