Pedas of Dharwad

People of North Karnataka are generally fond of sweets. The bountiful nature has bestowed on them rich black soil, which provides sugarcane, wheat and thick milk. Numerous delicacies are prepared from jaggery, sugar, wheat flour, ghee, milk and curds, which they have enjoyed over centuries. Huggi(pudding), Holige (stuffed sweet rotis) Undis or Laddus (sweet balls) reign supreme in the region. All good and happy events are celebrated with a box of sweets, pedas being predominant.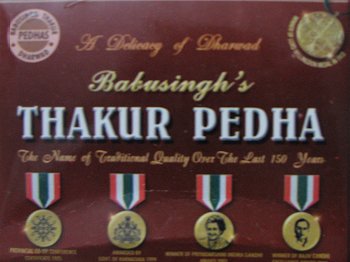 It is surprising therefore that Thakur Babu Singh's pedas from North India specially from Lucknow sneaked in the empire of Undis and won the heart of Dharwad people in such a short time. The city of Dharwad, the great seat of learning is today famous only for Line Bazar pedas! Tasty things know no bounds.
Pedas are not new to Karnataka. Mangarasa of 16th century known for his work on cookery (Supashastra) has mentioned it. But it had a beautiful name Piyushapinda or "Ball of Nectar"!.
Pedas are prepared from thickened or condensed milk over a slow fire. But Babu Singh's pedas are unique. Roasted over regulated heating, these are brown in color and excellent in flavor. Mixed with sugar these pedas last for a long duration, more than two weeks, without losing taste. Only they become a little hard. No color or preservative is used. Indigenous quality is maintained.
Dharwad pedas landed in Kannada land about 175 years ago. Dharwad district was a huge area. Most, probably some adventurous U.P. Bhayyas under Peshwas whose influence stretched from north India to Kannada area in South (Known as Southern Maratha country) came here, and stayed on, due to warm welcome more so to their tounge-tickling pedas!. I belong to that generation of Dharwad which waited anxiously between 10 AM to 12 noon before the small shop of pedas of Babu Singh Thakur in Line Bazar (Heart of Dharwad). The daily supply of pedas would be over before the que ended. Late Babu Singh was the fourth generation Thakur, whose family scion Ram Ratan Singh first landed in Dharwad by mid 19th century. Slowly production went on increasing. Now Praveen Kumar heads five joints of Line Bazar pedas in Hubli-Dharwad and Bangalore Mishra pedas are also popular.
Other imitation pedas have appeared but none match Bubu Singh's. The centuries-old formula of soft quality, unique taste and lasting flavor continue.
Hail Dharwad Peda!