Mandalay Days of Tilak

It is well known that Lokmanya Tilak was sentenced to six years of solitary confinement and sent to Mandalay jail in present day Myanmar on 1898. Tilak could have hardly written about himself about the difficult time he spent in the dreary jail.

One Kulkarni, a Marathi speaking person, also a prisoner, was asked to cook food for Tilak and he stayed in Mandalay for two years. Kulkarni has left reminiscences of the great leader.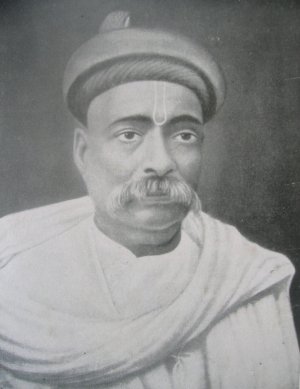 Tilak was an early-riser. After morning ablutions, and meditation for an hour, he started writing his commentary on Bhagavadgita which is now famous as Gitarahasya (Mystery of Gita) after having tea. 9 A.M was time for bath. Part of the kitchen formed bathroom. A prisoner used to give him shave once a week. But the instruments used were rough and unhygienic. Tilak was diabetic and not to take any risk, he complained to the jail superintendent. A regular barber came whose payment was made by Tilak. It was so high that it seems Tilak exclaimed that even princes (Indian) do not spend so much on a shave. Summer used to be swelteringly hot and Tilak took bath twice a day. A Burmese prisoner washed his clothes. Puja ritual and recitation of Gayatrimantra followed and he used to apply pinch of ash on his forehead. Meals followed. He used to walk in his room for a short while. Studies were resumed. At 1.30 PM he took lime-juice. If hungry he ate fruit or drank milk. This was the hour of 'chat' with Cook Kulkarni. Tilak used to tell stories of Tukaram, Jnanadev, Ramdas, Krishna and Shivaji in addition to Ramayana and Mahabharata to Kulkarni.
At 5 PM he had evening meals and at 6 PM the room was locked. He thus had to spend 12 hours in that small room without ventilation.
After two years his diabetes was worse and Tilak became weak. Medicines prescribed had no effect. He himself introduced barley in his diet in place of rice. He was permitted wheat, pulses, milk and ghee. He reduced intake of sugar. He was fond of raw plantain bhaji, sour curd and at times ate puris of barley.
He could not stand extreme hot climate of Mandalay and there were blisters on his body. His petition for change to Andaman prison was turned down by the British.
"All right, it appears to be Godís wish that I should die in prison" Tilak exclaimed.
Tilak was allowed an interview with outsiders once in three months. He was permitted to write a letter and receive one from his family members. Every word he wrote was checked. The Jailor once asked him to rewrite. Tilak was angry but only sighed and said "Servility hurts in a hundred ways".
Once cook Kulkarni forgot to put salt in the curry. The mistake was found only when the cook sat to eat after serving Tilak. Later he was very apologetic. But Tilak just laughed and said. "I never noticed that there was no salt; it would hardly matter! No need to be apologetic".
Tilak's cook was released much earlier and went back to Pune. He informed Tilak's family members about his routine. He was there to greet the Lokamnya after his release and return. Tilak asked Kulkarni to stay with him and he gratefully accepted. "I was a convict. But my sins were washed in the holy Ganga of a saint's company, and my life is fulfilled." Kulkarni has written.