Jamila Brijbhushan

In the early 1970s, when I was doing my doctorate in social history of medieval Karnataka, I wanted to include a chapter on the dress and ornaments, which idea was endorsed by my research guide, (Late) Prof. G.S. Dikshit. I had gone at that time through Jamila Brijbhushan's book on Indian Jewelry which was profusely illustrated. That book provided guidelines to my husband. He prepared hundreds of line drawings based on photographs he clicked from numerous temples of Karnataka which were later included in my book.

© K.L.Kamat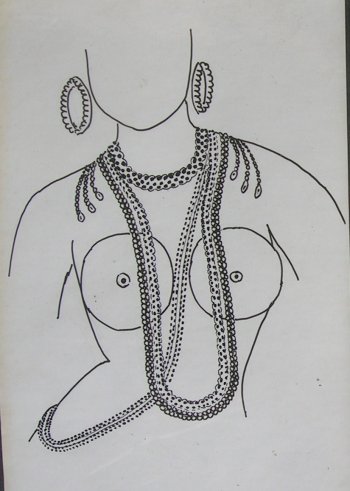 Medieval Jewelry
Illustration by K.L. Kamat based on period sculpture
Presently I am writing a biography of Kamaladevi Chattopadhya in Konkani and had occasion to go through Jamila Brijbhushan's book on her. She has done full justice to Kamaladevi's many splendorous life. Meanwhile I came to know that the writer was also quite versatile.
Jamila Brijbhushan (1918-1990)
Jamila was born in a prosperous Muslim Zamindar family of Uttar Pradesh. She studied in Christian convents and later went to Lucknow University. There she fell in love with Brijbhushan and they got married in 1942 much against the will of elders of both the families. But stronger opposition came from society. Hindu-Muslim tensions were high in North India at the time. The young couple were forced to flee from place to place, at times into hiding to avoid attempts on their life. Finally they settled in Delhi. Brijbhushan got a job as a librarian.
Jamila had frail health. But she continued writing on varied subjects like costumes, textiles, embroidery, metal ware and miniatures. She has also written a book on status of Muslim women in purdha and out of it. Muslim women in medieval times were great achievers, right from the days of Prophet Muhammad. There were women in business, good number of judges, poets, and played active role in political and religious affairs.
Jamila toured Europe and America with her husband and lived there for many years. She made a master copy of the language newspapers and journals of South East Asian countries for the Library of Congress (D.C) as also Rockefeller foundation.
Her last book was on Razia Sultan, the great queen of India who ruled briefly. (1236-1240) It is a posthumous publication. She developed tubercular encephalitis and meningitis and later Parkinson's Disease which compelled long hospitalization. She died on October 6th 1990. The Brijbhushans had two daughters.
Jamila's style is lucid but at the same time she has eye for details. After going through several works on Kamaladevi I find that she has laid correct stress on important points of Kamaladevi's outstanding service in different fields. It is rare that the writer and the written persons are themselves great achievers.
See Also:
• Kamaladevi Chattopadhyaya : Portrait of a Rebel by Jamila Brijbhushan in Kamat Library