The Story of Tara

Among the women of Ramayana, depicted by sage Valmiki, Tara enjoys a unique place by her conviction, intelligence, presence of mind and courage.

The Kishkindha Kanda of Ramayana, (Chapters 33 and 35) provide glimpses of a strong woman who rose to the occasion, to face a crisis, where her husband Sugreeva failed.

Tara was the wife of Vali, the valorous chief of the Vanaras. In one of the campaigns Vali was absent for a long time and was supposed to be dead. His brother Sugreeva married Tara as per the custom of their clan. But when Vali returned, Tara switched back her loyalty to Vali. Vali also took Ruma, Sugreeva's wife Ruma in vengeance, after defeating him.

In the famous incident of Vali-Sugreeva combat Vali finally was killed by Rama. Before that, Tara had pressed Vali to return Ruma back to Vali and not to kill Sugreeva. Vali agreed finally to her wish, that he would only defeat and not kill his brother.

Tara was courageous and present at the battle field where the brothers fought. She rebuked the monkeys, who started fleeing after Vali's fall and rallied forth. During his last moment Vali advised Sugreeva to consult Tara on all important occasions. "Tara's advice never goes without effect", he said. After Vali's death, Tara requested Rama to send her to her husband's place with the same arrow which killed him. Rama consoled her and said, "Wives of heroes never sink into despair."

© K.L.Kamat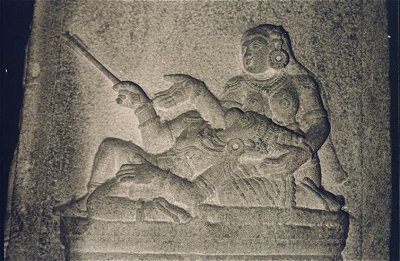 Dying Vali on Tara's Lap
Sculpture from a temple near Mysore
She now became queen of Sugreeva again. Forgetting his promise to help Rama in his search of Sita, King Sugreeva indulged in all types of pleasures, for a prolonged period. This apathy annoyed Rama and he expressed his displeasure to Laksmana. In great anger, Laksmana rushed to Kishkindha, to remind Sugreeva of his broken promise.
Sugreeva was engaged in orgies and quite tipsy when news reached him that Lakshmana had arrived as Rama's emissary and in full anger. He was frightened and in no position to face him feeling guilty. He could think only of Tara to get over the humiliating situation. He sent her to face the fretting and fuming Lakshmana.
Tara rose to the occasion. She came out to receive Lakshman gracefully and with kind and polished words she was able to convince that her husband had not forgotten his promise. The conversation between Lakshman and Tara forms an interesting event in Ramayana. She told him that Sugreeva was not ungrateful. Neither was he cunning or heartless. Having suffered untold miseries for a long time, he was now absorbed in small pleasures. It behooved noble Rama to forgive bodily weaknesses. She told about the steps her husband had taken to mobilize his army to assist Rama in fighting Ravana. She discreetly suggested that wily Ravana was also in need of Sugreeva's help. She reminded that even a great Sage like (Viswamitra) engaged in bodily pleasures and temporarily forgot his duties. She tried to convince Lakshmana that seeing his furious mood, the wives Sugreeva will be terribly upset and reminded again of the gory incident from which they had just come out.
K.L.Kamat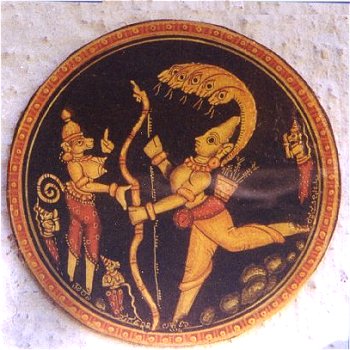 Tara Pacifying Angry Lakshman
Detail from a Ganjifa Art Plate
Lakshman cooled down. Now Tara went and briefed Sugreeva to be prepared to receive Lakshman courteously and talk tactfully. She herself led Lakshman to Sugreeva and everything ended on a happy note. He actually apologized for the harsh language used in condemning Sugreeva over a broken promise. In the age when women were supposed to have lost all individuality, Tara stands out for independent views and tactful behavior. Both her husbands were convinced about her ability and relied on her.
Incidentally it throws light that the curse of widowhood did not exist in certain clans of he period and women could remarry. They had some sort of socio-e