The Story of Garuda

Vikas has compiled a fascinating array of pictures depicting Garuda in Indian Art, and prompted me to write about the mighty bird.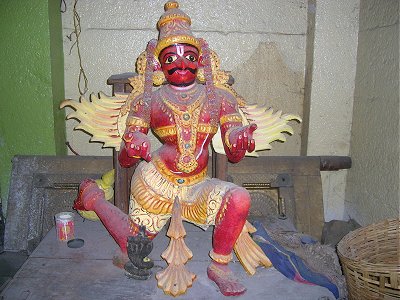 The Story of Garuda
According to the Hindu Puranas, Garuda is son of sage Kashyapa and Vinata. His elder brother is Aruna, the charioteer of Sun god Surya. Vinata and her sister Kadru once saw the heavenly horse Uchhaisravas grazing near the seashore. Vinata said it was a pure white horse. Kadru insisted that its tail was black. They went on arguing. Kadru suggested that they come next day and check again. Whosoever's version was incorrect she will become slave of the other. Finding that her observation was incorrect, Kadru with her son Karkota's help, painted Uchhaishrava's tail black. Poor Vinata became her slave. When Garuda also as son of slave had to serve Kadru and her sons, who were serpents, he was very much annoyed. He approached Kadru and asked how he and his mother could be liberated. She told him that the only way was to bring nectar from the land of gods. With the blessings of his father, Garuda set off for the land of gods.
After reaching that world, Garuda fought the guards who kept a vigil on the pot of nectar (Amrita) and crossed all hurdles of various weapons. Lord Indra also came to recover the drink of immortality. Garuda faced him fearlessly. Pleased at his valor, Indra allowed him to take the Amritakalasha (pot of nectar) but warned that the serpents should not have access to it. He also blessed him that he will have the diet of serpents. Garuda flew back and placed the nectar-pot before Kadru, and who wanted her progeny to become immortal. She ordered them to have a bath before having a drink of Amrita. When the reptiles left for bath, Indra appeared and carried away the pot back to heaven. When the serpents returned there was no nectar. They tried to lick the drops fallen on grass. All their tongues were split!
Thereafter Garuda flew to freedom with his mother and later became the vehicle of Lord Vishnu.
Garuda (Indian Eagle) is not seen eating carrion, (like vultures) and is supposed to be a clean bird. Known for speed it flies very high in the sky. It became a symbol of courage, faithfulness and unflinching duty. There are many sacred places named after Garuda.
Suparna (having pretty wings) is the other popular name of this mighty bird.