Koundinya Kingdoms of South East Asia

While going through the history of South East Asian Kingdoms, where Indian culture had spread since ancient times, the word "Koundinya" drew my notice. We Kamats belong to the "Koundinya Gotra", so do several countless families, throughout India. The term Gotra stands for common lineage from a sage since hoary past. There are ten or tweleve such sages from whom lineage is claimed by present day Indians.

But the Koundinya who reached the Indo-Chinese peninsula perhaps in 1st century C.E. was a different kind of a Brahmin. He established a kingdom in Funan, part of present day Cambodia. As was the practice, only the Kshatriyas were supposed to fight, win and rule. But this Koundinya showed his valor, became a king, married a local princess and founded a dynasty. Koundinya hailed from Mithila (present day Bihar) and was a Shaiva. Shaivism (worshiping Shiva) became the state religion of Cambuj (ancient name of Cambodia).

© Corel Professional Photo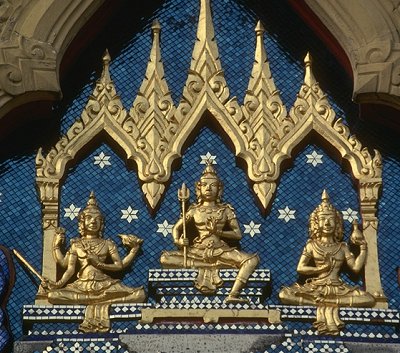 Hindu Icons
Wat Trimitr - Bangkok, Thailand
Maritime trade contacts had existed between the countries, like Brahmadesha or Burma (present Myanmar), Cambuja, Thailand, Champa (Eastern part of Indo-Chinese Peninsula, Suvarnadvipa (part of present day Indonesia, mainly Java and Sumatra) since ancient times. Brahmanism and Buddhism made their appearance in that region through traders and missionaries. Though religions and sects of Indian origin do not have a tradition of conversion, local people on their own accord accepted them for their convenience. Royal influence had its role in the spreading of Indian culture. Along with religion, art, architecture, language, literature script and other social customs made their way to this entire region, from Indian mainland. A healthy combination of North and South Indian traditions, mixing with local culture, brought forth new civilized life. No single region of India can claim for its establishment. But South Indian influence is predominant in architecture. The Angkor Vat of Cambodia is a Vaishnava temple built in the Dravidian style. Scenes from Ramayana and Puranas adorn the walls.
The royalty of Thailand also claims its origin from Koundinya. They practice many of the rituals laid down in the sastras like that of Manu till date. This in spite of Buddhism being religion of that land. Royal rituals and ceremonies from birth to death are conducted by court-Brahmins only. In the coronation ceremony of Thai Kings, offering of crown, sword, fan (chamara), girdle, golden sandals (heritage of Bharata of Ramayana), and scepter etc by the Royal priest, prevails. The Sanskrit mantras chanted on the occasion have undergone sea change over centuries. It is interesting to note that Tamil verses from Tiruvempa of Manikyavachar are also included!
Ramayana has left a lasting influence in this land. Anecdotes from Ramayana form the theme of Thai national dance. The kings bear the title of 'Rama'. Present king, Bhumipol Aduldej is Rama IXth. Their earlier capital was Ayutaiah (Ayodhya).

See Also: India and Southeast Asia