Krishna as a Child
Kid Krishna's Complaint to Yashoda, his foster mother
Saint-poet Purandaradasa's numerous compositions are like pen-pictures. With lively themes, lilting tunes buoyant spirit and fresh imagery in words; they could be entertaining to music lovers of all ages. These songs also help one realize the divine power of Lord Krishna which makes miserable life of human beings, a bit cheerful and enduring. In one of the compositions, Krishna as a kid complains or reports to Yashoda, what his playmates say when he goes to join them.
© K.L.Kamat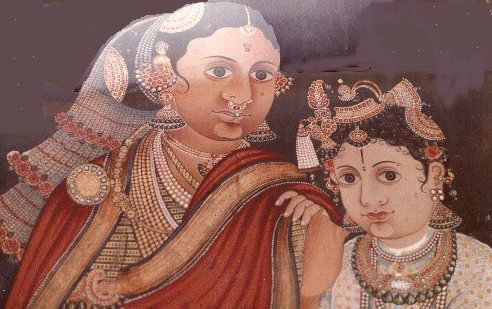 Yashodha and boy Krishna
Detail from a Mysore Traditional Painting
"Oh! Amma! They wink at me and whisper among themselves, that Devaki, and not you, is my mother. They say I was born in jail. I was brought here out of deadly fear of my uncle!
They exclaim, "I killed a she-demon who tried to feed me poison, by sucking her life out! And that I killed the demon Shakata with a kick of my baby-foot!
They say, I was not born of you. I was brought here, only to tend your cows, and hence you fostered me so affectionately!
They point out that I swallowed fire and killed Vatsa, the demon. They laugh that vulture is my vehicle and a snake, my bed. I swallowed all the butter I stole (from the houses of Gokul!)"
Those familiar with Bhagavata Purana, at once recognize all the child-hood adventures of Lord Krishna. But when narrated by the Lord-Almighty himself-they all appear as his child's play. Yes, he likes the way his playmates make fun of him.
Purandaradasa is never tired of singing Krishna's glory. Here is a reminder of Krishna Leela (sport of Krishna), with familiar literary allusions. These are some anecdotes, god Krishna enacted to annihilate miseries and bring cheer to people's lives, with whom he lived in human form.
Reference - Purandaradasa's famous Kannda composition- "Adahodalle Makkalu", Free translation by yours truly.
M.S.Sheela the distinguished musician, from Karnataka has rendered this song beautifully.