Romance of the Ravake (Blouse)

After reading my article Story of Saree on our website, some friends asked, "How could you skip the blouse, that inseparable companion of the Saree?" Yes, this elegant and close out-fit of majority of Indian women can enhance the beauty of a Saree with matching color, cut or embroidery. An un-matching blouse may mar it. Hence Saree-connoisseurs are very particular about a befitting blouse. At times stitching charges of a matching blouse is twice the cost of the piece of cloth! After all, the piece of cloth required for a blouse is less than a meter.

© K.L.Kamat



Design on a Blouse

There are hundreds of blouse patterns and every year new ones are added to the list, depending on choice of the wearer and designer. It was so in ancient India as well region-wise, when blouses were all hand stitched! A Sankrit subhashita (epigram), compares a lyric or poem to a blouse. "A verse should not be too revealing like the blouse of an Andhra damsel or too much covered as the one of the Gujarati girl. It should be like the choli of a Maharashtrain maiden which is neither too shallow (bare) nor cryptic (fully covered)." This suggests that the lyrical quality of a poem should be suggestive.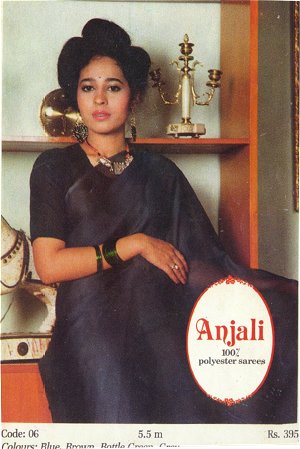 The metaphor is graceful enough! Maharashtraian choli and Kannada kuppasa or ravake are similar. Tight and short enough to cover the bosom part and convenient to lift both arms to carry the heavy head-load, without being provocative. These are designed artistically, as per the occasion.
We know from Kalhana's Rajatarangini that half-sleeved blouse-pattern was one of the fashionable wear, introduced in Kashmir by King Harsha in 11th century CE. No doubt it appealed to graceful and elegant Kashmiris.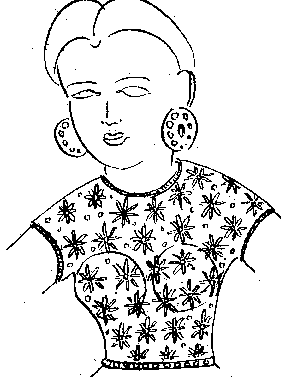 Innumerable blouse-fashions are appearing these days, with thread-bare backs and name sake chest covers, some feel they are more exposing and provocative. Anyway, as long as saree continues as national female attire in India the blouse will continue to be its "bosom friend"!
See Also:
• Ancient Brassieres
• Indian Attire Through the Centuries
• Research the varieties and designs of blouses of India in our picture archive