Honoring Havnur Mama (b. 1928)

Dr. Shrinivas Havnur ("Havanur Mama" to me; Mama is maternal uncle) will turn 80 shortly.

A front line researcher and a distinguished writer in Kannada language, he has proficiency in several other fields. He is a librarian, a teacher, an orator, an actor, an organizer, a helping friend and a good cook!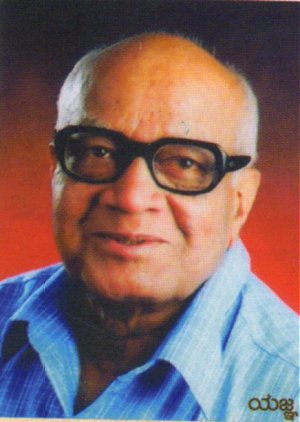 He belongs to that ilk of roving gurus of ancient India who did not stick to one place or one profession. Till date he does not own a house, keeps on moving all over the world. He has been to U.S.A. England, Germany France and many cities in India in search of the matters dear to him. He stays in guest-houses and rented flats most of the time. He is a workaholic.
Under Indian conditions, it is rare indeed, to see a scholar switch his profession for which he has been trained initially. But Dr. Havnur is cast in a different mold. He had training in library science after his Masters degree and was a librarian at the prestigious Tata Institute of Fundamental Research at Mumbai for nearly quarter of a century. He needed a change. Due to his literary merits and organizing caliber, he was selected as a Professor of Kannada at the newly formed University of Manglore, Karnataka. After his term he moved to Bombay University. He started short term courses in Kannada teaching, research, and other related topics in methodology. After his retirement, he has devoted full time for research and writing.


Havnur's Handwriting and Autograph, 1987
A prolific writer, he has written short stories novels, pen-portraits, essays and books on socio-religious subjects. He has translated and summarized great English and Kannada works. His doctoral thesis "Hosagannadada Arunodaya" (Dawn of Modern Kannada) is trend setter and all-time reference work for students of Kannada literature. It has filled a long gap that existed between old type classical Kannada, and the changes it underwent in early British rule. It traces important mile-stones in Kannada Socio-literary field of 19th century. Many documents, folk-events, folklore, inscriptions and other archival material is brought to light in this great book.
Acclaimed as a good teacher, he has several historical research works to his credit and has presided over two national-level history conferences.
I cannot help but mentioning that I have been a beneficiary of the liberal academic help Dr. Havnur is known for. He took keen interest in my unpublished research-piece on education in Karnataka. He gave suggestions to include more material and helped me borrow books from Bombay University library, when I was posted at Radio Station Mumbai. He was also instrumental in getting the book, my first research work in Kannada, published from Bombay University. This book, Karnatakada Shikshana Parampare (Education in Karnataka, through the ages), fetched me best-book-award for research of Karnataka State Sahitya Academy for the year 1987.
A novel type of Felicitation Volume is being brought out, consisting of select writings of Dr. Havnur who has been writing for the past 60 years. After surviving two heart attacks and hospitalization, there is no change in his itinerary of lengthy travels and long working hours.
As a family friend of 50 years, I have learnt a great deal of history and histrionics from the highly talented Havnur Couple. May the rare Guru live long and brighten Kannada literary scene further!

$Wan$ Update: The Kannada University at Hampi just announced that Havanur-mama has been awarded the "Nadoja Prashasti".