Bankim and The Indian Naitonal Song
Bankim and The Indian Naitonal Song
'Vande Mataram' ! (I bow, mother land; or Hail mother land) was the pronouncement that united millions throughout the country, during Indian freedom struggle. British government had banned it. Freedom lovers nurtured it and were jailed for singing the title song.
The Republic of India has two national songs. One is the national anthem 'Janaganamana' composed by Rabindranath Tagore (1861-1941). This is sung on all official occasions and national festivals. Vande Mataram was composed by Bankim Chanda Chatterji in the 19th century, when freedom struggle was in a nascent form. It contains a moving description of Bharat as motherland and had immense mass appeal. Being in Sanskrit, its reach was far and wide. It enthused countless youth to espouse the cause of independence for more than 3/4th of a century. The song appeared in Bankim's famous Bengali novel of 1882, "Anandamath".
It is sung, nowadays in groups as prayer in schools, colleges or social gatherings, first thing to start with. Sometimes justice is done to both songs. The function starts with 'Vande Mataram' & ends with 'Janaganamana'. Both songs are small and contain description of India.
Bankim Chandra was born in 1838 CE in Kanchalpada village of 24 Paragana district of West Bengal. His father was in British government service and rose to become collector of Midnapur dist. Bankim had his education in Midnapur and Calcutta. He topped in school and college examinations and was offered deputy collector's post, soon after graduation, at the age of 20.
He later completed law degree but had to retire in the same post after 32 years!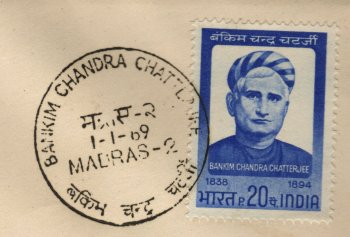 Bankim was greatly influenced by works of Raja RamMohan Roy and Ishwarchandra Vidyasagar. Gifted with powerful imagination he mastered Sanskrit and Bengali languages. He started his literary career with poems but became more famous through his 14 novels, which were translated into English and other Indian languages.
He started a monthly 'Bangadarshan' in which his famous novel Anandamath' was serialised. People were anxiously waiting for the instalment and his novels saw five to six editions in his lifetime. He was the first writer to use spoken Bengali. Devi Choudhurani, Kapala-Kundala, Vishavriksha are some of his famous novels.
Bankim wrote books on religious themes as well. His 'Shri Krishna Charitra' is very popular. So great was his mass appeal that many non. Bengali readers identified themselves with characters in his works. He died with a copy of Bhagavadgita by his side in 1894 CE He was only 56. He is the first and foremost Indian Novelist without any exaggeration, though regional novel form had appeared earlier in other languages.