Yeshwant Chittal
Savant story writer, Yashwant Chittal (b.1928)
I happen to know the extraordinarily talented Chittal family for more than 50 years now. Yashwant Chittal's eldest brother Damodar, who died prematurely, was a successful lawyer and a great organiser of cultural programmes. Second brother Gangadhar Chittal was a senior Officer in the Indian Administrative Service. Gangadhar was a leading Kannada poet, who also died early. Third brother Venkat is a distinguished architect and engineer, settled in the U.S.A, a witty humorous person, from whom I borrowed several good Kannada books. I have not met Mohan, who was a good singer of Kannada bhavgeets, also a U.S. citizen. Yashwant Chittal is an outstanding short story-writer and novelist of modern Kannada.
© K.L.Kamat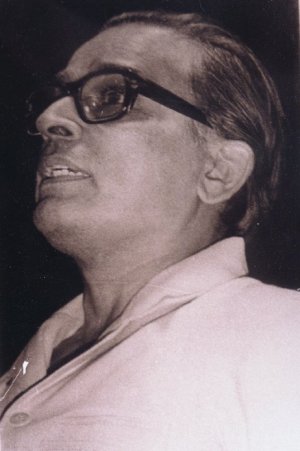 Kannada Novelist Yeshavant Chittal
Dharwad, 1988
Yashwant's first short stories appeared in early 1950s. By now he has nine collections, which have seen several editions. His five novels are also trend-setting. He has besides three collections of essays. His works are famous for their unusual theme, settings, and characterization. Yashwant is a good student of human nature and unfolds many hidden traits of man and woman in each story or novel under different situations. His characters struggle with several members of society or among themselves, in a peculiar way. This depiction is Chittal's forte. Their reaction to social ethos is sensitively depicted, though complex at times. The readers go on identifying themselves with one or the other characters created by him to heave a sigh of relief at the end to realise it is fiction! Disillusionment lurks in every piece.
I read his latest collection 'Puttana Hejje Kanodilla'! (Putta's steps are not seen!. 2007), recently and was impressed with the novelty of theme in changing India, particularly in two stories where a young Brahman girl elopes with the village cobbler"s son and their marriage is talk of the town and a great surprise to the readers as well. In another story, a young to-be-mother boldly walks out of marriage shocked at the avariciousness of her spouse & in laws.
Hanehalli, a small coastal village where Chittal grew, has left an indelible mark on his writings and forms background like R.K.Narayan's Malgudi. The difference is that, Malgudi is a fictitious name, whereas Hanehalli is real, alive and kicking. Chittal has now immortalised it!
© K.L.Kamat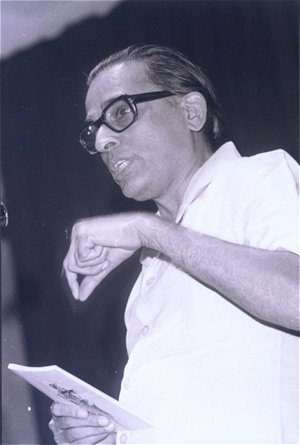 Yashwant Chittal
Famous works of Chittal include "Muru Darigalu", and "Shikari"
Special mention may be made of Chittal's 'Konkannada' (Konkani words mixed with Kannada). With long association, Kannada & Konkani languages have lot of exchange but that remained only in spoken form. It goes to the credit of Yashwant for giving 'Konkannada' a literary form. Chittal is settled in Mumbai for long. (50 years).
Inspite of being away from Karnataka and his beloved Hanehalli, they form the 'soul' of his and he is the most read author. His works have won awards from both Karnataka and Maharashtra literary Academies as also from central Sahitya Academy. Awards established in the names of Masters like Masti, Karanth and Niranjan are also his. Seminars were arranged to discuss his novels and short stories, which is rather unusual in Kannada literary world.
Yashwant Chittal is successful in his profession as well. An M.S. (Tech) from Steven's Institute or Technology USA, he specialized in Polymar Technology. He retired as Executive Director of Beckelite Hilum Ltd. in 1985.
Yashwant Chittal is recipient of Pampa Prashasti for the year 2007. This is the highest literary award instituted by the government of Karnataka to commemorate Pampa, the great Kannada poet of tenth century. At present he is half way through writing his sixth novel "Digambara".