Narayana Guru (1854-1928)
Shri Narayana Guru (1854-1928 CE)
India has boasted of great gurus and saint-poets who belonged to so called lowly caste. They inspire of interesting and rather conflicting study of the caste system in India through the ages.
In the Indian tradition, Lord Krishna was a cowherd, Valmiki, who wrote Ramayana was a hunter and Vyasa who wrote Mahabharata was son of a fisher-woman. One may argue that they all belonged to hoary past, when caste system had not made its ugly appearance. But a great saint-reformer lived amongst us, not long ago. He changed the face of an entire community and is venerated by one and all, due to his high spiritual attainments and social leadership.
He was Narayana Guru.
Narayana was born in a small village near Tiruvananthapuram (Trivandrum), capital of Kerala state. His parents Madan and Kutti Amma belonged to Ezhava community, which was considered untouchable in conservative Kerala. In the 19th century Kerala, the Ezhavas formed more than 17% of the total population and were fairly educated, although discriminated. Young Narayana was lucky enough to get good education from Raman Pillai Asan.
© V.N. O'key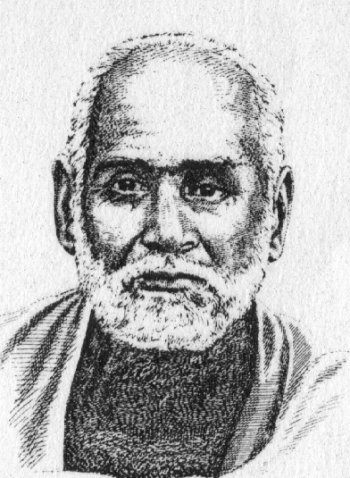 Narayan Guru (1854 - 1928)
Portrait in India ink by V.N. O'key
Married at a very young age --as was the norm at the time, he lost his wife soon and became a totally withdrawn from the world. Spiritual traits were ingrained in him and practiced Yoga and strict way of life of ancient rishis. He established a monastery and started preaching virtues of pure and pious life. He urged people to fight superstitions, animal sacrifice and cruelty to them. He was very much pained at the caste barriers of the time which forbade temple- entry to Dalits. He encouraged his people to build their own temples and trained them in puja rituals. He taught them Sanskrit and philosophy too. Soon he gained large following.
He preached three slogans to his followers.:
One God, one caste, one religion for all mankind.
Ask not think not caste
Whatever the religion, let man improve himself.
Though started initially to emancipate his own community of Ezhavas, his belief in one God and one religion, brought together different castes much lower in the rung, who too became his followers. His gurukul at Shivagiri near Trivandrum became a great center of education and vocational training to students of all castes. He also started co-operative credit societies to avoid dependence of the poor on upper castes. His preachings led a movement known as SNDP yogam or Shri Narayana Guru Dharma Paripalana Yogam.
Later he participated in Gandhiji's satyagraha which became famous as Vaicom temple-entry satyagraha. This did a lot to lessen social discrimination in south India.
Narayana Guru was the prominent preacher of the last century to teach and practice that, the caste system had nothing to do with Hindu religion and was only a social phenomenon, which could be fought against in a non-violent way.