Panini the Unrivalled Grammarian (c. 500 B.C. )

Vyakarna or grammar is most essential to learn any language. Under Indian context it is much more. Grammer was considered as independent science that helped to understand the Vedas and supreme knowledge and was believed to have an spiritual element. All ancient and medieval philosophers (Buddhist, Hindu and Jain), were proficient in the science of grammar. It was a touchstone of erudition. Panini and his work "Ashtadhyayi" (The Eight Chapters), form the basis of Sanskrit and consequently all Indian languages for more than 3000 years.

Panini was born in Salatura village near Ohind (ancient Udabhanda) Gandhar or Kandahar in present day Afghanistan. It was an integral part of India then and Sanskrit was the spoken language in the entire belt. Panani's father was Shalanka and mother was known as Dakshi. Panani must have mastered all the branches of study known in his time and realized the need for a permanent set of grammatical rules (in aphorisms) which helped to absorb ever growing language of Sanskrit. In his times Sanskrit was like English language of later times which is omnipotent and ever growing.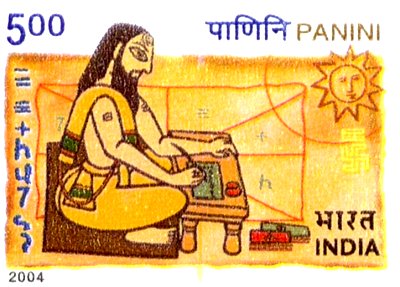 Indian Postange Stamp on Panini
Vedic Sanskrit at his time had become almost archaic and limited to gamut of entire religious literature which was studied and taught in the gurukulas. Spoken Sanskrit prevalent in the huge sub continent needed an essential infrastructure, under which provision was to be made to absorb new words and their proper usage continuously. This permanent arrangement was provided by Panini.
There were grammarians before Panini, who are mentioned by him. Listed among six vedangas or limbs of veda, shiksha or phonetics formed an important part of correct pronunciation and chanting of vedic mantras. Panini's work on shiksha became most popular. He further systematized technical terms and formed rules for their interpretation, nouns in composition, case-relations, made of adding suffixes to roots and nouns and ways of word formation, all in eight chapters.
Ashthadhyi became a standard grammar work but was found very difficult for commoners to study and remember in aphorism forms which were 3996 in number. Several commentaries on it appeared. But Patanjali's Mahabhasya (200 CE) is the most famous. Bhattoji Dikshit ( 1600-1650 CE ) rearranged the entire work for an easier study in his work known as Siddhanta-kaumudi.
It is unfortunate that no details are available about the life and times of this greatest grammarian. Hiuen Tsang, the Chinese scholar-monk who was in India in the seventh century, had seen a big statue erected in Panini"s memory at Saltura, his birth place. He mentions that Panini dedicated his great work to his king who highly appreciated it and announced a prize of one thousand gold coins to those who could recite the entire book. This contributed a good deal for promotion and spread of Asthadhyi. Hiuen Tsang had also noted highly learned Brahmins at that place. According to a story, Panini was killed by a lion.
Befitting death to a lion among grammarians !!