Gandhian 'Khaddar' Srinivas Pai

During India's freedom struggle many a spirited youth gave up their studies or lucrative jobs realizing the call of the nation. Many of them went to jail and were politically active. After independence, most of them availed the benefits and fruits of freedom, holding high political posts, availing pension and perks.

A good number of nationalists took up Gandhiji's constructive programs like rural upliftment, removal of untouchability, promotion of Hindi and swadeshi or propagation of khadi (Khaddar) or hand woven cloth, which was to lessen rural unemployment. Men, women and grown up children could spin and provide thread to make home spun cloth. Kadabettu Srinivas Pai chose the medium of khaddar for his social service. He was so much involved in the work, that his initial "K" stood for Khaddar !!

He came to be known as Khaddar Srinivas Pai.

Born in undivided district of South Kanara, in Kadabettu village in Udupi town in 1892 in a well-to-do family, Srinivas Pai left his college studies to join the freedom movement. He sold his landed property to open a Swadeshi shop which was inaugurated by Gandhiji at Udupi on 25th February 1934. This shop sold khadi cloth for decades. Mr. Pai traveled the entire district of South Kanara visiting hundreds of houses and schools, distributing cotton to spin on hand wheel (Takli). He collected this yarn and gave it to volunteers who would weave dhotis, sarees, and towels.Under Mr.Pai"s personal supervision the cloth was sold and quality maintained.

© Usha Padiyar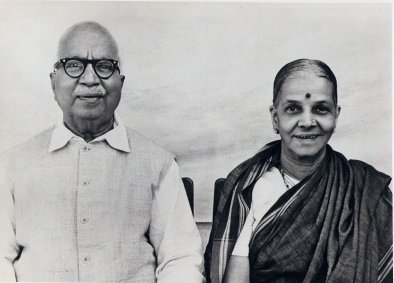 K. Srinivas Pai and Wife Padmavati Pai
Pai championed the use of Khadi and was known as Khaddar Srinivas Pai
He himself spun for fixed hours everyday and so did his family members. sutrayajna (collectve spinning) and singining of Gandhi-ashram bhajans was a daily routine.He later opened khadi shops in Mangalore and Karkal. His house in Udupi accommodated National & State level leaders when they passed through. Besides Gandhiji, Sarojini Naidu, Kamaladevi Chattopadhyaya, Benagal Shiv Rao were some of them.
After independence, the congress government selected some selfless workers and provided land, since many had lost their assets in the freedom struggle. Mr. Pai declined the offer and continued with his austere style of living. He did not avail pension for freedom fighters either.
He continued with his other activities of rural upliftment. He is best remembered for erecting a pillar at Vadabhandeshwar beach near Malpe (Udupi) at the spot where Gandhiji's ashes were immersed in the sea on 2nd of December, 1948. He collected chanda for the purpose. For several years community spinning and bhajans were arranged at that holy spot.
He later joined bhoodan movement and traveled with Vinoba Bhave to obtain land for free distribution among poor. Sarvodaya Patre ( vessel of welfare ) was his contribution, wherein he collected money and grain from house to house to feed the poorest. Selling Gandhian and Sarvodaya literature were his other activities.
He married Padmavati, 18 years his junior, who shared his selfless adventures and brought up their nine children, under great constraints. The boys went to Mumbai soon after they completed their matriculation, took up jobs and studied in night colleges. Girls followed suit. They are now highly placed and are involved in one social activity or the other. The eldest daughter Bharati took up the responsibility of the large household, since their father was always on the move. In the days when working women were fewer in small towns, Bharati took up job in Syndicate bank (with one year"s service without salary!).
In his last years K. Srinivas Pai stayed with his children in Mumbai, where he breathed his last in the year 1976.
It is due to scores of selfless workers like Khaddar Srinivas Pai, that rural India received her home-spun strength, in early years of freedom, which brought forth many young workers of sarvodaya and ambarchakra (reformed hand-wheel with more spindles) weaving. It kept khadi movement alive for nearly two decades after independence, which helped self-reliance.
See Also:
• The Khadi (Handspun Cotton) Culture
• Gandhi Autobiography: The Birth of Khadi
• Biographies of Freedom Fighters of India
• The Magic of Khadi
• Portrait of Mandarke Devanna Pai, Karkala