Harapanahalli Bheemavva (1823-1902)

Visitors to Kamat Potpourri are familiar with Haridasa movement Karnataka boasts of. Bhakti or devotion is the way of liberation as taught by this movement. Purandaradasa and Kanakadasa are the greatest among them. Haridasa means servant of God. (and the poet-saints of this tradition and worshipers of Vishnu composed verses in simple and popular style which could be sung by one and all. These verses suited different situations. This movement continued for more than 500 years. Giriamma and Bheemavva are important women composers of devotional songs, who lived in 18th and 19th centuries of Common Era respectively. Their achievement is extraordinary because both were illiterates with no schooling in modern sense of the term.

© Mysore University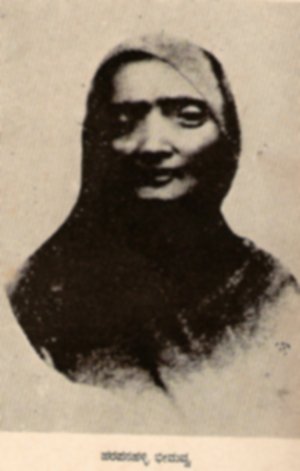 Picture of Harapanahalli Bheemavva

Bheemavva was born in 1823 in Narayanakere village (now submerged in the Tungabhadra river) of Hospet town of Bellary district. Her parents were Raghunath Acharya and Rangamma who were Yajurvedi Brhamins and belonged to Raghavendra Matha. Many legends are connected with her childhood, like a serpent visiting her cradle, a scorpion hiding in her head ornament, which she herself pointed out to her shocked guardians and her kidnapping by a soldier. The latter became blind suddenly and restored the child back to her parents after which he regained his sight.
There was religious and pious atmosphere all round. Songs and song-stories were sung while carrying out daily chores. Bhajan (group singing) was common. Harikatha (called one-man theater) was a combination of acting, singing , narration, at times dancing to the accompaniment of music which was extremely popular. Undertaken by accomplished artists, it contributed a lot towards spreading moral, ethical, religious and spiritual message among masses. The themes were from epics, puranas and life of saints. All these modes of popular education must have influenced the imaginative mind of Bheemavva.
She was married at the age of eleven to a 45 year old thrice-widowed Muniyappa of Harapanahalli. She was named Krishnabai by her husband's household. They had one son and one daughter. Bheemavva became a widow at the age of 36. As was the custom, she was tonsured and suffered all the austerities thrust on the brhamin widows of the time. It was during this period that her creative mind started working. She composed more than two hundred devotional songs, big and small. Several of them composed and sung on the spur of the moment are lost. But many are preserved in the family records. These have seen light of the day in book form, published by Mysore University in 1984, edited by Dr. T.N.Nagaratna (Harapanahalli Bheemavvana Haadugalu)
The 145 available songs consist of a two-lined, three stanza ones to a song-story of 193 verses.
Bheemavva wrote arati songs, welfare songs, chore-songs, marriage songs and songs suitable for all occasions. Her songs provide many vignettes of social life of the period. Songs while offering naivedya mention good number of prevalent sweets and savories. While describing bridal attire of deities, a list of contemporary ornaments from head to toe are figured, which bring to mind a well dressed and ornamented female of Mysore School Tradition of Painting. She chose "Bheemesha Krishna" as logo for all songs testifying her devotion to both the deities, Shiva, Krishna and her own name Bheema.
The popular theme of stealing saree of gopis by boy Krishna (gopikavastrapaharana) has provided a good occasion for Bheemavva, to list the colourful saris of her times. The astounding number comes to more than seventy with equal number of colours and designs woven with golden thread and artistic designs. These must have been cynosure to eyes of the folks. Bheemavva also mentions places like Uppadi, Silari, Ladlapur, Konrad which were famous sari weaving centers. All have disappeared except those of Banaras, Chanderi and Paithani. The last two were revived by ceaseless efforts of Kamaladevi . Paithani saris had five styles of designs in Bheemavva's time.
She has shown ingenuity in recreating characters like Draupadi, Satyabhama etc., written in simple spoken North-Karnataka Kannada, she had adopted meters, which could help her songs, small and big renders musically and with ease.
Bheemavva breathed her last at Hosur on the banks of Tungabhadra in December 1902.