The Dattatreya Cult

The Trinity of Brahma, Vishnu and Ishwar or Maheshwar together occupy an important place in Hindu religion and mythology. The Trinity is associated with three stages of ever-changing cosmos, viz creation "Srishthi" existence sthiti, and destruction laya. It is believed that these stages repeat in cycle forever in the universe in renewed form.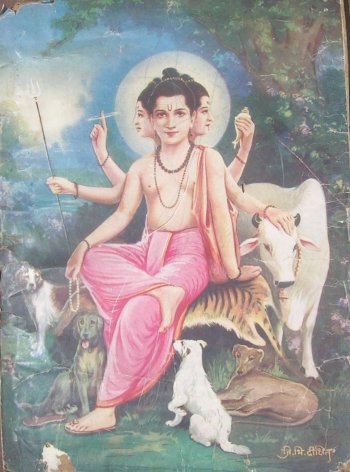 In the land of anthropomorphism, that is India, deification takes place easily. Hence three important gods of Hindu mythology became one and identified as one God with three heads and one body. The one body signifies sustenance, ever-essential trait. The God became Trimurti or Three-in-One entity or idol. Scholars trace origin of Trimurti to the Upanishadic times. But it remained more or less a concept. After the fall of Buddhism and revival of Hinduism under Shankaracharya, idol worship in myriad forms appeared. Trimurti took concrete shape with his own mythology.
Slowly Trimurti took the shape of Dattatreya, a wandering monk. In one of his incarnations he is born as son of sage Atri and his saintly wife Anasuya. In the earlier birth he was Datta (giver of boons) and a wandering Guru or mendicant preceptor. Now Datta became to be recognized as Dattatreya, the second half of the word "Atreya" signifying son of Atri.
Dattatreya or Gurudatta is ever-moving, without any worldly belongings, and preaching highest philosophy of God-realisation. This could be achieved through simple meditation pious-living, chanting God"s name, singing in groups (bhajans) and showing compassion to all beings who are God"s creation. No built temples for him. Shade of Audumbar tree (Ficus Glomerata) was enough to draw the devotees. The lord leaves his traits behind in the shape foot (pada), which are worshipped by the devotees.
No doubt, Dattatreya cult popularized by Narasimha Saraswati, a saint who lived in the latter half of fifteenth century became very popular. Under Muslim rule, temples, idol-worship and processions were not at all possible. The simple and flexible way of worship preached by Narasimha Saraswati appealed to all, including the Lingayats who had moving priests Jangamas and Muslims who had sufi fakirs. Muslims respected Datta as Shah-Datta-Alam (Lord of the universe) the universe and Malanga.
Places in Maharashtra and Karnataka where Narasimha Saraswati preached, have developed into centers of Dattatreya worship like Audumbar (Nasik district) Narasoba Wadi (Kolhapur district), Ganagapur (Gulbarga District). There is one more seat of Datta (Datta-pitha) in Bababudangiri in Chickmaglur district as well, which has turned into hot-bed of controversy.
This seat of Preceptor Datta (Datta-Pitha) is in Western Sahyadri mountain ranges twentry three miles away from Chickmaglur, district capital. In Hindu mythology it is known as "Chandra Drona" mountain. A sufi saint named Bababudan came and settled there. He is credited with bringing coffee seeds from his African homeland. This area is ideally suited for coffee crop. His tomb is in the same cave in the mountain where the seat of Guru Datta exists. For centuries, devotees of both religions came on pilgrimage and felt blessed by visiting the shrines. Now politics has stepped-in and tight security arrangements have to be made during Gurupurnima or Dattajayanti on the remembrance day of god Dattatreya. Both sects claim precedence over each other over the shrine and encircling area. It is unfortunate that the sacred spot where the wandering Guru taught communal harmony and compassion should turn into a bone of contention and bickering throughout the year.

See Also:
• Picture of Dattatrya Veena
• Idol of Dattatreya
• Link to popular "Mala he Datta guru disale" song by Asha Bhosle